Centaurea solstitialis, Yellow Star-thistle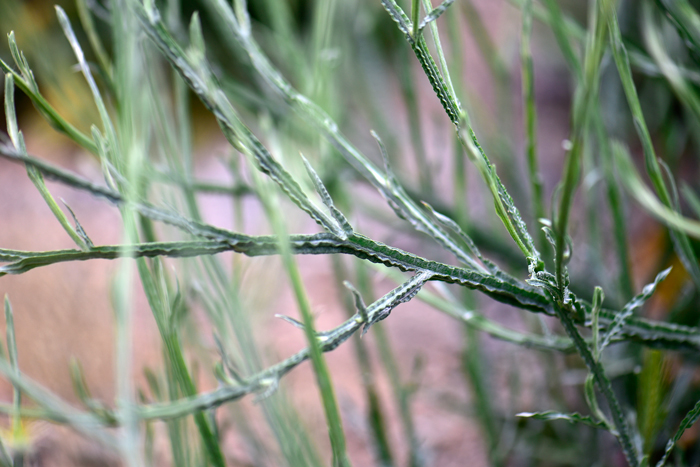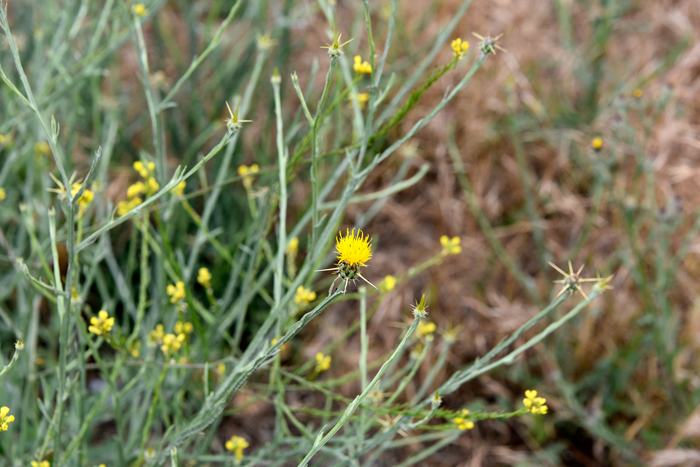 Scientific Name: Centaurea solstitialis
Common Name: Yellow Star-thistle
Also Called: Barnaby Thistle, Golden Starthistle, St. Barnaby's Thistle, Yellow Cockspur, Yellow Star Thistle, Yellow Starthistle
Family: Asteraceae, Sunflower Family
Synonyms: (Leucantha solstitialis)
Status: Introduced, naturalized in California; from Europe.
Duration: Annual or biennial.
Size: Up to 3 feet more or less.
Growth Form: Forb/herb; large taproot; stems simple or often branched from the base, stems are winged; rounded bushy plants; plants gray-tomentose.
Leaves: Leaves gray-tomentose, scabrid to short-bristly; cauline leaves petiolate or tapered to base; leaves usually have fallen off during flowering; leaves; leaf margins pinnately lobed or dissected; linear to oblong.
Flower Color: Yellow; flowers discoid only; solitary or multiples flower heads, glabrous to loosely cobwebby-tomentose; flower with long stems (peduncles); phyllaries; terminal spine of the phyllary yellowish, comparatively stout, 1.2 to 2 cm long; plants thinly tomentose
Flowering Season: May or June to October or sometimes year-round.
Elevation: Up to 6,500 feet or higher.

Habitat Preferences: Waste places, roadsides, abandoned fields, pastures, recreational areas, disturbed grasslands, woodlands, not common in desert communities. In the northwestern part of the country Yellow Star-thistle co-dominates with Cheatgreas (Bromus tectorum) and other annual-grasses. In California Yellow Star-thistle is found in the Central Valley and nearby foothills; now moving into mountainous regions below 7,000 feet.
Recorded Range: Yellow Star-thistle is found throughout North America and most of Canada.

North America & US County Distribution Map for Centaurea solstitialis.

U.S. Weed Information: In North America Centaurea solstitialis can be weedy or invasive according to the following authoritative sources: California Invasive Plant Council (Cal-IPC); Weeds of the United States and Canada; Western Society of Weed Society.
Plants included here may become weedy or invasive.

Invasive/Noxious Weed Information: In North America Centaurea solstitialis is listed as a Prohibited, Restricted, Quarantined, Regulated or Noxious Weed by AZ, CA, CO, MT, NV, NM, ND, OR, SD, UT, WA.
Plants included here are invasive or noxious.

Wetland Indicator: No information available. Threatened/Endangered Information: No information available.

Genus Information: In North America there are 34 species and 38 accepted taxa overall for Centaurea. Worldwide, The Plant List includes 734 accepted species names and a further 1,150 scientific names of infraspecific rank for the genus Centaurea. Members of the genus Centaurea are commonly known as Knapweeds.

In the Southwestern United States: Arizona and New Mexico each have 8 species of Centaurea, California has 17 species, Nevada has 5 species, Texas has 4 species, Utah has 10 species. All data is approximate and subject to taxonomic changes.

Comments: Both Yellow and Maltese Star-thistle plants are aggressive exotic winter annual weeds. Yellow Star-thistle is thought to have had several introductions including from contaminated alfalfa seed (Medicago sativa). This species is thought to be toxic to horses if cumulatively ingested.

For a comprehensive thoroughly documented review of Yellow Star-thistle see the USDA USFS Fire Effects Information System, or FEIS.

Special Value to Native Bees; European Honey Bees (Apis mellifera) are important pollinators of Yellow Star-thistle. Bumblebees (Bombus) are also important floral visitors.

Also see in Southwest Desert Flora; Maltese Star-thistle, Centaurea melitensis.

Etymology:

The genus Centaurea is derived from an accessory form of centaurëum in the Herbarium of Pseudo-Apuleius, and from Ancient Greek (kentaúreion, "several plants related to Centaurea"), from (kéntauros, "centaur") (due to the mythological discovery of its medicinal properties by Chiron the Centaur).

The species epithet solstitialis refers to the summer or mid-summer or the solstice.