Calycoseris wrightii, White Tackstem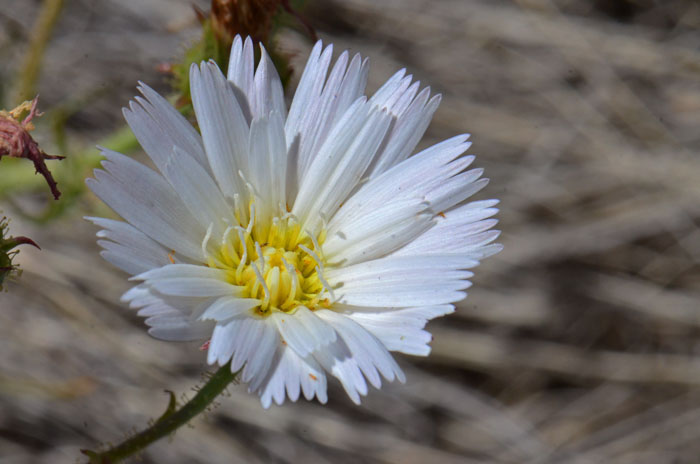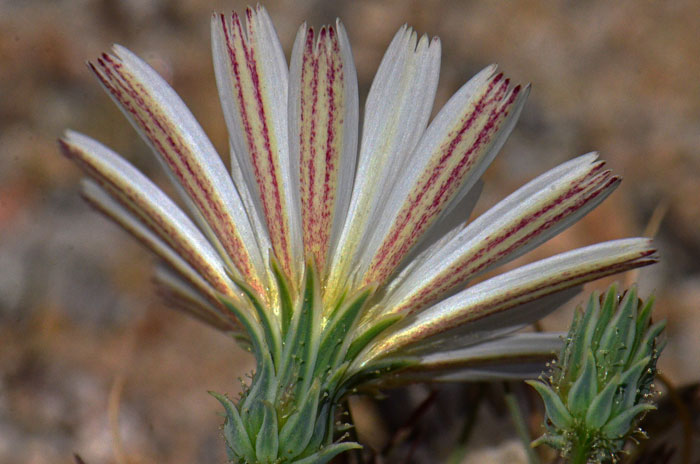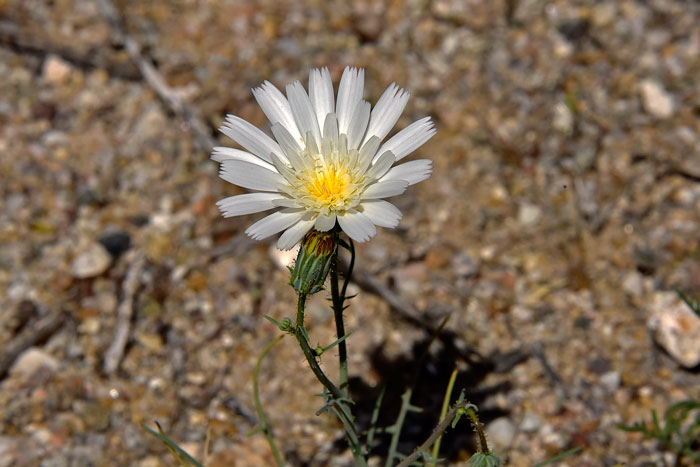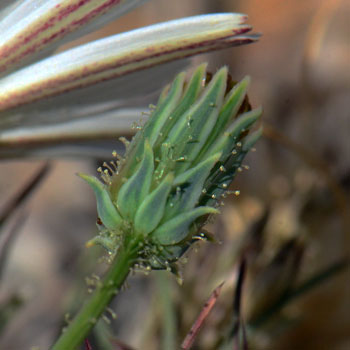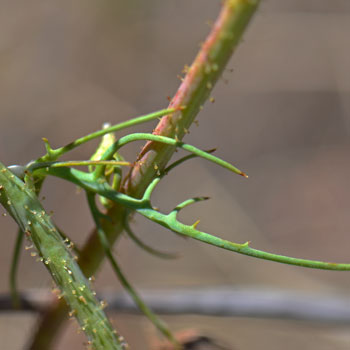 Scientific Name: Calycoseris wrightii
Common Name: White Tackstem
Also Called: Desert Chickory, Tackstem
Family: Asteraceae, Sunflower Family
Synonyms: ()
Status: Native
Duration: Annual, winter annual.
Size: Up to 12 inches more or less.
Growth Form: Forb/herb; low, branching; glabrous except for conspicuous light straw colored glands on upper part of stem and on the flowering parts.
Leaves: Green; alternate; up to 4 inches long, fine almost inconspicuous, pinnatisect into narrowly linear or filiform divisions.
Flower Color: White, purple-tinged below; flowers strap-like or ligulate; fruit an achene.
Flowering Season: March to May; March to June in California.
Elevation: 500 to 4,000 feet, Arizona and California.

Habitat Preferences: Common on desert plains in caliche soils, desert washes, rocky mesas and slopes, stream bottoms, limestone gravels; often in creosote or mesquite associations.

Recorded Range: Calycoseris wrightii is found in the southwestern United States in AZ, CA, NV, NM and extreme western TX. It is also native to Baja California and Sonora Mexico. In Arizona it is found in central, western and southeastern parts of the state.

North America & US County Distribution Map for Calycoseris wrightii.

U.S. Weed Information: No information available.
Invasive/Noxious Weed Information: No information available.
Wetland Indicator: No information available.
Threatened/Endangered Information: No information available.

Genus Information: In North America there are 2 species and 2 accepted taxa overall for Calycoseris. World wide, The Plant List includes 2 accepted species names and includes a further 2 infraspecific rank for the genus.

In the Southwestern United States: Arizona, California, Nevada and Utah each have 2 species of Calycoseris, New Mexico and Texas each have 1 species. All data is approximate and subject to taxonomic changes.

Comments: White Tackstem, is considered to be one of the prettiest spring flowers in desert habitats. This species thrives in both the Mojave and Sonoran Deserts.

White Tackstem is similar in size and shape to the closely related Yellow Tackstem, Calycoseris parryi, which differs by its yellow flowers and with a greater preference for the Mojave Desert.

Etymology:

The genus Calycoseris is a combination of the Latin root "calyx" meaning cup; and "seris", (plural of sere) meaning a kind of chicory.
The specific epithet wrightii is named for Charles Wright (October 29, 1811 – August 11, 1885), an American botanist and teacher from Wethersfield, Connecticut. Mr. Wright graduated from Yale College in 1835 and is known primarily for collections from the southwestern United States, Mexico and Cuba. In Texas he collected from Galveston to San Antonio and then on the El Paso. He also contributed in the United States and Mexican Boundary Survey of 1848.