Berlandiera lyrata, Lyreleaf Greeneyes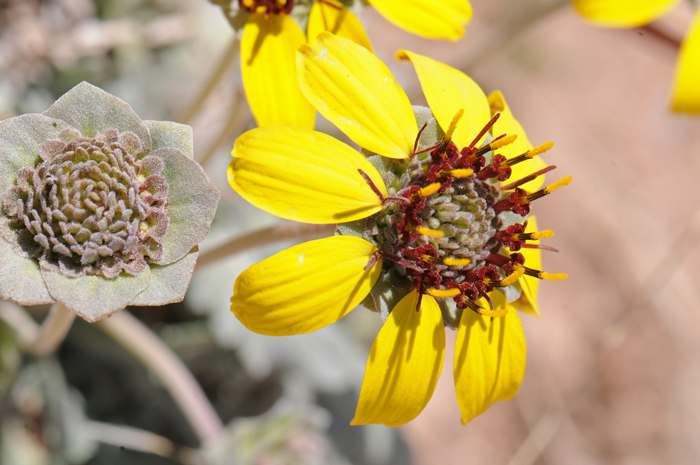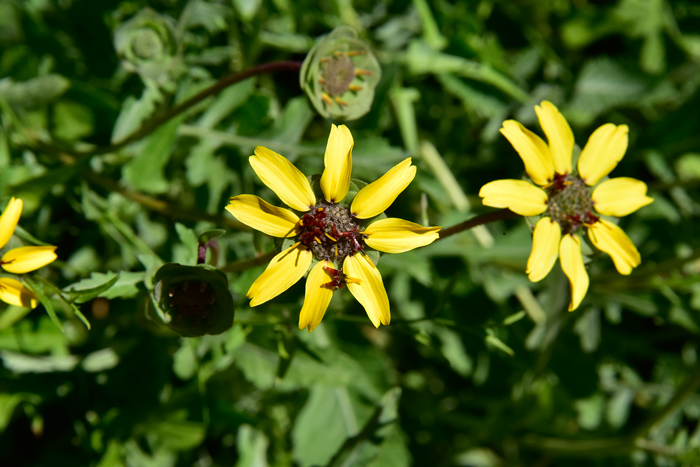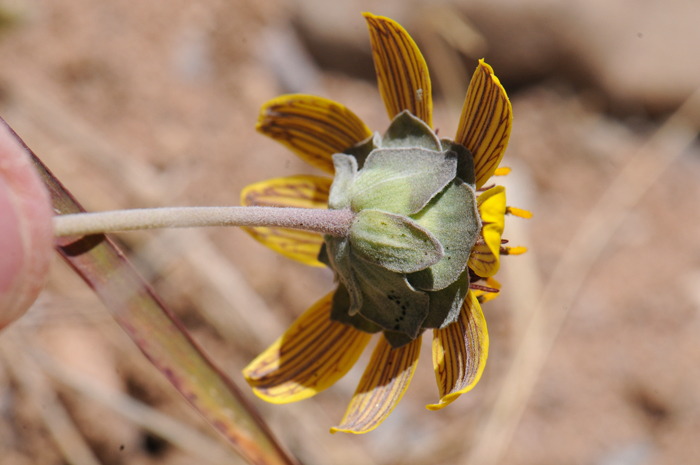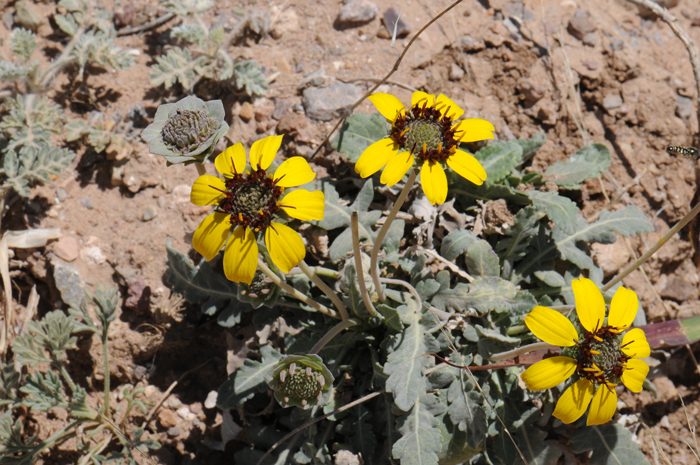 Scientific Name: Berlandiera lyrata
Common Name: Lyreleaf Greeneyes
Also Called: Chocolate Daisy, Chocolate Flower, Greeneyes, Lyre-leaf
Family: Asteraceae, Sunflower Family
Synonyms: (Berlandiera incisa, Berlandiera lyrata var. macrophylla)
Status: Native
Duration: Perennial; taproot.
Size: Up to 2 feet or more.
Growth Form: Forb/herb; basal rosettes; lower stems erect or decumbent; plants canescent-tomentose; chocolate-like scent.
Leaves: Green, grayish-green above, whitish underneath; leafy; leaves velvety; alternate; shape variable, oblanceolate, obovate or spatulate; leaves lyrate-pinnatifid or merely crenate.
Flower Color: Deep yellow to orange; flower heads large, showy; flowers radiate; solitary; long hairy peduncles; when the ray florets fall away a green disc shape remains (re: the name green-eyes); the ray florets are deep yellow to orange-yellow with notable abaxial veins of red to maroon; phyllaries obovate to ovate, in 3-series; fruit is a pubescent achene, strongly flattened and a photogenic cup-like structure.
Flowering Season: April to October or year round.
Elevation: 2,200 to 7,000 feet.

Habitat Preferences: Dry sandy loams, rocky limestone soils, irrigated fields, disturbed soils, roadsides, plains, mesas, grasslands with mesquite, oak and juniper.

Recorded Range: Lyreleaf Greeneyes is found in the southwest United States; AZ, CO, KS, NM, OK and TX and northern Mexico. In Arizona limited distribution the southern and southeast parts of the state.

North America & US County Distribution Map for Berlandiera lyrata.

U.S. Weed Information: No data available.
Invasive/Noxious Weed Information: No data available.
Wetland Indicator: No data available.
Threatened/Endangered Information: No data available.

Genus Information: In North America there are 4 species and 6 accepted taxa overall for Berlandiera. World wide, The Plant List includes 8 accepted species names and includes a further 10 of infraspecific rank for the genus.

In the Southwestern United States: Arizona has 1 species of Berlandiera, California, Nevada and Utah haves 0 species, New Mexico has 2 species and Texas has 3 species. All data is approximate and subject to taxonomic changes.

Comments: Lyreleaf Greeneyes is so named because the leaves are so variable. They may be oblanceolate, obovate or pinnately lobed (lyrate). It is readily available as a southwest desert landscape plant because of its bright color and its chocolate scent. Lyreleaf flowers open at night and begin to droop as the temperatures begin to warm up.

Special Value to Butterflies and Birds

Lyreleaf flowers and seeds readily attracts butterflies and birds.

Etymology:

The genus Berlandiera honors Jean-Louis Berlandier (ca. 1805-1851) a French-Swiss botanist, physician and anthropologist. Mr. Berlandiera primarily collected plants in Mexico and Texas. In addition to collecting botanical species, Mr. Berlandier collected information on over forty Native American tribes and made notes on animal species.

The species epithet "lyrata" is derived from the New Latin word lyratus a reference to an ancient musical instrument known as a lyre, the shape or outline may loosely be described as having multiple lobes. Now a botanical term "lyrated" relating to lobes and pinnately divided leaves. It is also an accepted zoology term referring to the tails of certain birds.

Ethnobotany

The flower heads of Lyreleaf Greeneyes have been used as a food seasoning an other purposes by United States indigenous peoples.
Acoma Food, Spice; Flowers mixed with sausage as seasoning.
Keres, Western Drug, Psychological Aid; Dried roots burned, ground & tossed on hot coals or smoke inhaled to give courage.
Keres, Western Drug, Sedative; Dried roots burned, ground & tossed on hot coals or smoke inhaled for nervousness.
Keres, Western Food, Spice; Flowers mixed with sausage as seasoning.
Laguna Food, Spice; Flowers mixed with sausage as seasoning.
See full species account from from Native American Ethnobotany, University of Michigan, Dearborn.