Atrichoseris platyphylla, Parachute Plant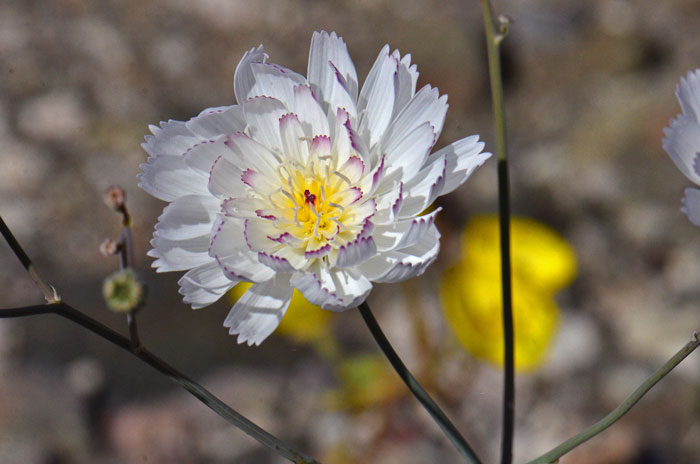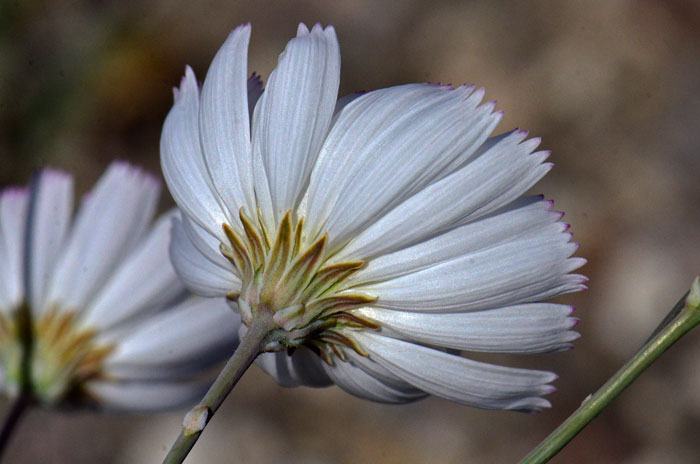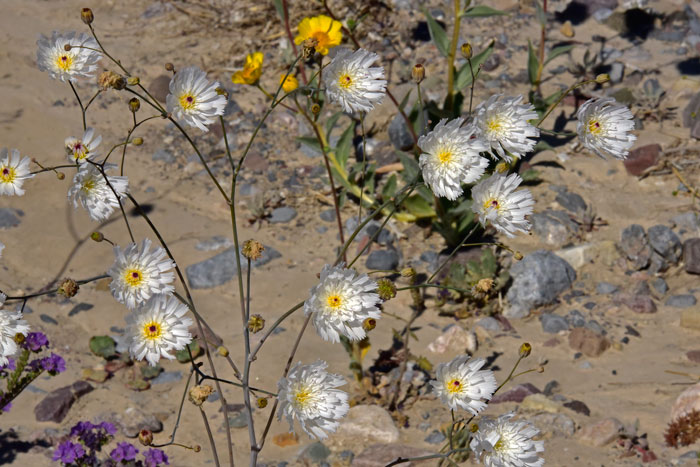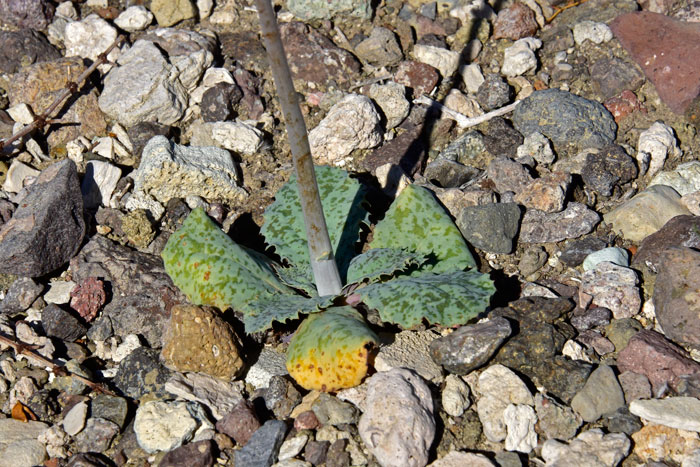 Scientific Name: Atrichoseris platyphylla
Common Name: Parachute Plant
Also Called: Gravel-ghost, Tobacco-weed
Family: Asteraceae, Sunflower Family
Synonyms: (Malacothrix platyphylla)
Status: Native
Duration: Winter annual
Size: 8 to 36 inches tall.
Growth Form: Forb/herb; plants glabrous, erect spindly scape is branched above; several or many-headed; stems with milky sap.
Leaves: Glaucous, gray green, purple tinged; leaves basal, lowest leaves often flat on soil; leaves sessile or tapering to a short winged petiole; obovate, margins with spiny-like teeth; purple spotted or mottled.
Flower Color: White with yellow or purple centers; flowers ligulate; flowers about an inch in diameter; few or many heads, phyllaries in 2-4 series; quickly withering.
Flowering Season: March to April; February to May in California.
Elevation: Up to 2,500 feet; below 4,000 feet in California.

Habitat Preferences: Sandy or stony slopes and mesas; desert valleys and washes in California.

Recorded Range: Parachute Plant is found in the southwestern United States, mostly in the Mojave Desert in AZ, CA, NV, UT. In Arizona it may be found in La Paz, Mohave and Yuma counties.

North America & US County Distribution Map for Atrichoseris platyphylla.

U.S. Weed Information: No information available.
Invasive/Noxious Weed Information: No information available.
Wetland Indicator: No information available.
Threatened/Endangered Information: No information available.

Genus Information: In North America there is 1 species and 1 accepted taxa overall for Atrichoseris. World wide, The Plant List includes 1 accepted species names and includes a further 0 infraspecific rank for the genus.

In the Southwestern United States: There is 1 species of Atrichoseris in the southwestern United States. All data is approximate and subject to taxonomic changes.

Comments: Large populations of Parachute Plant are found in southeast California and southeast Nevada and in Borrego State Park and Death Valley National Park. Atrichoseris platyphylla appears to found in greater numbers in the Mojave Desert although it is found in the Mojave and Sonoran deserts. The type species is from near Fort Mohave (Cooper), Arizona.