Achillea millefolium, Common Yarrow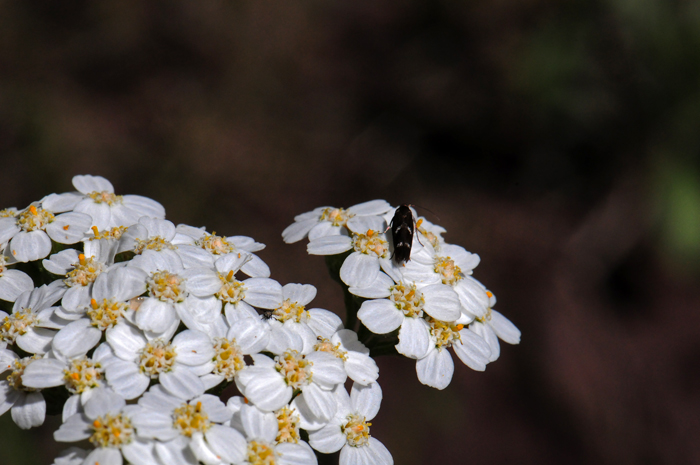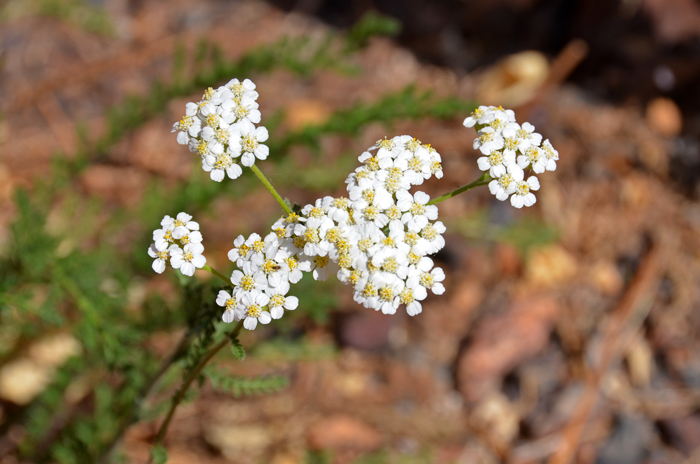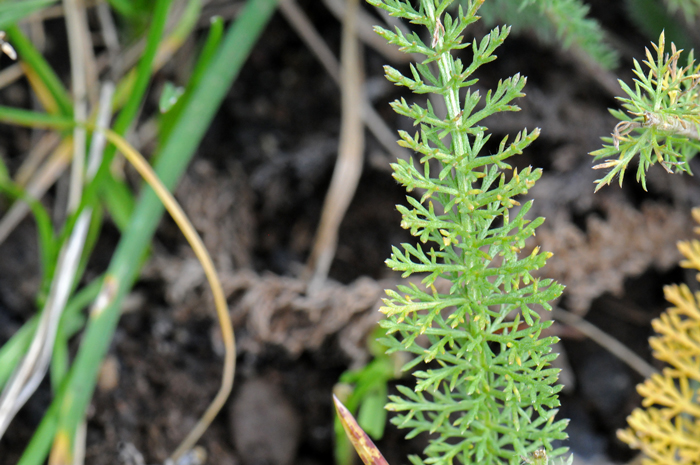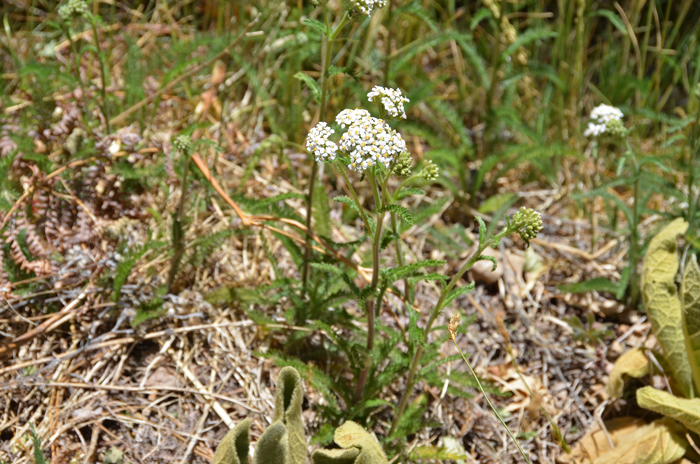 Scientific Name: Achillea millefolium
Common Name: Common Yarrow

Also Called: Bloodwort, Carpenter's Weed, Milfoil, Plumajillo, Western Yarrow, Wooly Yarrow, Yarrow (Spanish: Canfor, Hierba de Las Cortaduras, Plumajillo)

Family: Asteraceae, Sunflower Family

Synonyms: (Achillea borealis subsp. arenicola; Achillea lanulosa subsp. alpicola; Achillea borealis subsp. californica; Achillea millefolium subsp. lanulosa; Achillea millefolium var. alpicola; Achillea millefolium var. arenicola; Achillea millefolium var. borealis; Achillea millefolium var. californica; Achillea millefolium var. gigantea; Achillea lanulosa var. lanulosa; Achillea millefolium var. littoralis; Achillea millefolium var. pacifica; Achillea millefolium var. puberula.)

Status: Native

Duration: Perennial with rhizomes.

Size: 2 to 26 inches (6-65 cm) tall or up to 3 feet (.92 cm) or more.

Growth Form: Forb/herb; creeping root-stalk; erect typically single stems (4), branching near the top; plants covered with soft, often matted short woolly hairs (lanate - tomentose) or hairless or becoming hairless (glabrescent); plants with a distinctive, pleaSant to some, smell (aromatic).

Leaves: Green; basal leaves with short stalks (petiolate) upper stem leaves (cauline) more or less clasping (surrounding a stem) and without a stalk at the base of the leaf (sessile); leaves are finely dissected (deeply-cut), 3-pinnately divided; foliage smooth (glabrate) to sparsely covered in dense soft matted hairs (tomentose) or densely covered with long woolly hairs (lanate); alternate.

Flower Color: White to rarely pink flowers; 10 to 100 heads, heads have both ray and disk florets (ray florets 3 (5-8), disk florets 10 to 20 or more (40), heads in dense corymbose arrays; fruit a cypsela, there is no tuft of hairs for dispersal of seeds by the wind on the fruit, such as the puff-balls found in dandelions.

Flowering Season: April, May or June through September or October across a wide geographic range.

Elevation: 5,500 to 11,500 feet (1,600-3500 m).

Habitat Preferences: Multiple habitat types, not a low desert species, upper deserts, high chaparral, mostly in mountains in pine forests, arid or moist habitats; clay, Sandy or salty soils; pastures, meadows, roadsides, pastures, meadows, stream-sides, waste grounds, dry or Sandy soils, disturbed areas.

Recorded Range: Common Yarrow is found throughout the United States and Canada south to Baja California and Mexico.

North America & US County Distribution Map for Achillea millefolium.

U.S. Weed Information: Achillea millefolium is listed in: Weeds of Kentucky and adjacent states; Weeds of the Northeast; Weeds of Nebraska and the Great Plains; and Weeds of the United States and Canada. Plants included here may become weedy or invasive.

Invasive/Noxious Weed Information: No data available.
Threatened/Endangered Information: No data available.

Wetland Indicator: In North America Achillea millefolium has the following wetland designations: Alaska, FACU; Arid West, FACU; Atlantic and Gulf Coastal Plain, FACU; Eastern Mountains and Piedmont, FACU; Great Plains, FACU; Midwest, FACU; Northcentral & Northeast, FACU and Western Mountains, Valleys, and Coast, FACU.
FACU = Facultative Upland, usually occur in non-wetlands, but may occur in wetlands.

Genus Information: In North America there are 30 species for the genus Achillea. Worldwide, The Plant List includes 151 accepted species names with 330 infraspecific rank for the genus Achillea.

In the Southwestern United States, Arizona, Nevada, New Mexico and Texas have 1 species of Achillea, California and Utah each have 2 species. All data is approximate and subject to taxonomic changes.

In the Southwestern United States: Arizona, Nevada, New Mexico and Texas each have 1 species of genus, California and Utah each have 2 species. All data approximate and subject to revision.

Throughout North America there are 12 varieties in Achillea millefolium; there are 8 varieties in the southwestern United States, all located in California.

The genus Achillea was published in 1753 by Carl Linnaeus.

Comments: Common Yarrow is a strong scented plant, extremely variable and widespread throughout the northern hemisphere including Arizona's high country. Not a desert species but it is common where found and may be encountered in high desert situations. It has such variable characteristics that it has been classified both as a single species with 12 varieties and as individual species numbering almost 60. In the United States, observed native specimens of A. millefolium are thought to include genetic material from native plants, introduced plants and their hybrids.

This interesting plant is a weed to many and a worthwhile garden cultivar to others.

The characteristic finely dissected leaves are easily identified in the seedling stage. In New Mexico and southern Colorado the common name for this plant is "Plumajillo", Spanish for "little feather" a reference to the fine feathery like leaves.

Importance to Wildlife, Birds and Livestock

According to the USGS Fire Effects Information System (FEIS), Achillea millefolium varies greatly in forage value, depending on locality and seasonal development. It is generally unpalatable although domestic livestock and wildlife occasionally consume the flowers. Cattle and horses usually do not graze Common Yarrow. However, bighorn sheep, pronghorn and deer may graze the flower-heads (FEIS).

Special Value to Native Bees, Butterflies and Insects

Achillea millefolium flowers have species value to Native bees and is used by butterflies. Find out more from: Butterflies and Moths of North America and The Pollinator Program at The Xerces Society for Invertebrate Conservation.

Etymology:

The genus Achillea Achil'lea: Greek: the genus is named for Achilles; according to Greek mythology, Achillea was a student of Chiron, the centaur known for his knowledge of medicinal herbs. The genus Achillea was published in 1753 by Carl Linnaeus.
The species epithet "millefolium" millefo'lia/millefo'lium/millefo'lius: means with many leaves, or leaf segments, literally "a thouSand leaves."
In antiquity, yarrow was known as herbal militaris, for its use in stanching the flow of blood from wounds.

Ethnobotany

Common Yarrow has long been used for a multitude of purposes by indigenous peoples throughout North America. Common Yarrow was one of the medicinal herbs that was found at a 60,000 year old Neanderthal burial site in Iraq.
Abnaki Drug, Cold Remedy; Infusion of whole plant given to children for colds.
Algonquin, Tete-de-Boule Drug, Analgesic; Decoction of leaves and flowers used for headaches.
Blackfoot Drug, Antirheumatic (External); Poultice of chewed flowers applied to swollen parts.
Cherokee Drug, Dermatological Aid; Astringent leaves used for hemorrhages and bowel complaints.
Cheyenne Drug, Antiemetic; Infusion of fresh or dried plant taken for nausea.
Paiute Drug, Dermatological Aid and Analgesic; Decoction of leaves and stems used as a liniment for skin sores. Poultice of fresh, mashed and boiled leaves applied to sprained ankle pains.
Navajo Drug, Dermatological Aid; Infusion of plant used as a wash for cuts and saddle sores.
Shoshoni Drug, Anesthetic; Poultice of fresh roots applied to deaden pain so wound could be opened.
Ute Drug, Dermatological Aid; Poultice of plant applied externally to bruises.
Zuni Drug, Burn Dressing; Blossoms and root chewed and juice applied before fire-eating or -walking.

See the complete listing of ethno-botanical uses at Native American Ethnobotany, University of Michigan, Dearborn.