Toxicodendron rydbergii, Western Poison Ivy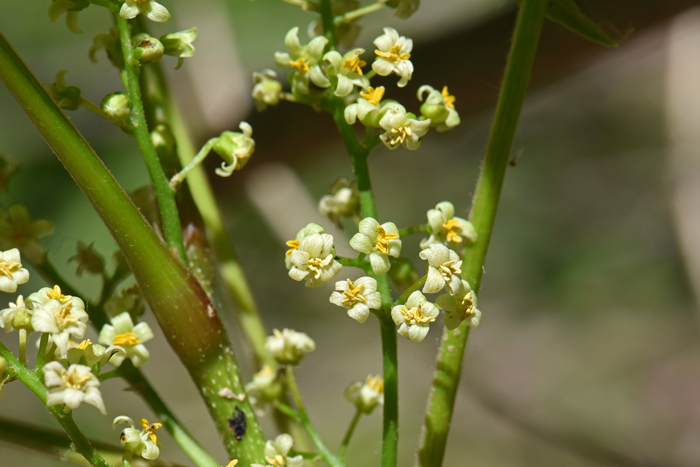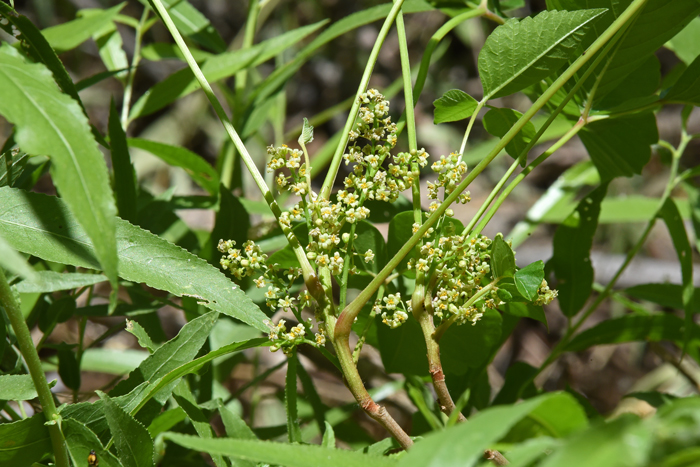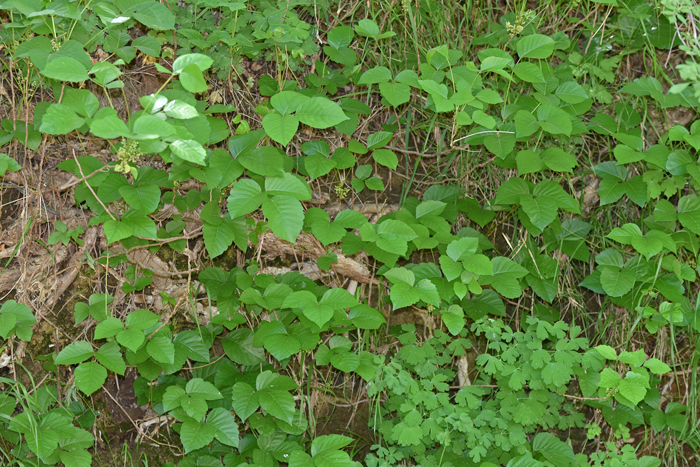 Scientific Name: Toxicodendron rydbergii
Common Name: Western Poison Ivy
Also Called: Poison Ivy, Poison Oak
Family: Anacardiaceae, Sumac Family
Synonyms: (Rhus radicans var. rydbergii, Rhus radicans var. vulgaris, Rhus rydbergii Small, Rhus toxicodendron var. vulgaris, Toxicodendron desertorum, Toxicodendron radicans var. rydbergii)
Status:
Duration: Perennial
Size: Up to 3½ or so depending on growth form below.
Growth Form: Forb/herb, shrub, subshrub, vine; plants finely pubescent or nearly hairless; stems erect, ascending or climbing by areole rootlets.
Leaves: Green, shiny green, deciduous trifoliolate or trifoliate, middle leaflet long stalked (petiole); leaflets up to 4 inches long, oblong-lanceolate to ovate, often coarsely few-toothed.
Flower Color: White, greenish-white; inflorescence loose; paniculate, appearing after leaves develop; petals greenish-white.
Flowering Season: 3,000 to 8,000 feet.
Elevation: April to September.

Habitat Preferences: In Arizona Western Poison Ivy is common in rich soil in ravines and canyons. In general, in the western United States, Western Poison-ivy most often occurs, but is seldom predominant, in gallery forests and floodplain communities.

Recorded Range: Wester Poison Ivy is found over most of North America, absent in several southeastern states and California.

North America & US County Distribution Map for Toxicodendron rydbergii.

U.S. Weed Information: In North America Toxicodendron rydbergii, Western Poison Ivy, can be weedy or invasive according to the following authoritative sources: Weeds of Nebraska and the Great Plains. Plants included here may become weedy or invasive.

Invasive/Noxious Weed Information: No information available.

Wetland Indicator: In North America Toxicodendron rydbergii has the following wetland designations: Arid West, FACU; Atlantic and Gulf Coastal Plain, FAC; Eastern Mountains and Piedmont, FAC; Great Plains, FACU; Midwest, FAC; Northcentral & Northeast, FAC; Western Mountains, Valleys, and Coast FACU.
FACU = Facultative Upland, usually occur in non-wetlands, but may occur in wetlands
FAC = Facultative, occur in wetlands and non-wetlands.

Threatened/Endangered Information: In North America Toxicodendron rydbergii, Northern Poison-ivy, is listed as "Endangered" by the state of Ohio.

Genus Information: In North America there are 7 species and 7 accepted taxa overall for Toxicodendron. Worldwide, The Plant List includes 30 accepted species names and a further 36 of infraspecific rank for the genus.

In the Southwestern United States: Arizona has 2 species of genus, California has 1 species, Nevada has 2 species, New Mexico has 1 species, Texas has 4 species, Utah has x species. All data is approximate and subject to taxonomic changes.

Comments: Western Poison Ivy is found throughout much of the United States and Canada and Western Poison Ivy, at least in its preferred western habitats, is not a predominant species. However Poison-ivies in the eastern United States, and certainly Eastern Poison Ivy, are most often predominant species where they are found.

Toxicodendron rydbergii contains a chemical that in some people causes painful swelling, rashes and eruptions of the outer-skin, thus the common name "Poison Ivy".

All species of Toxicodendron provide food for birds, small mammals, elk, deer and livestock. When over-browsing of Toxicodendron occurs, relative abundance of the plants may be reduced.

Toxicodendron rydbergii has been used for food as a blood medicine United States indigenous peoples.

Iroquois Drug, Blood Medicine, Poultice of plant applied to the skin as a vesicatory for water in the blood.
Lakota Drug, Poison, Poisonous plant caused a rash resembling venereal disease.

See complete listing of ethno-botanical uses at Native American Ethnobotany, University of Michigan, Dearborn.