Yucca faxoniana, Spanish Bayonet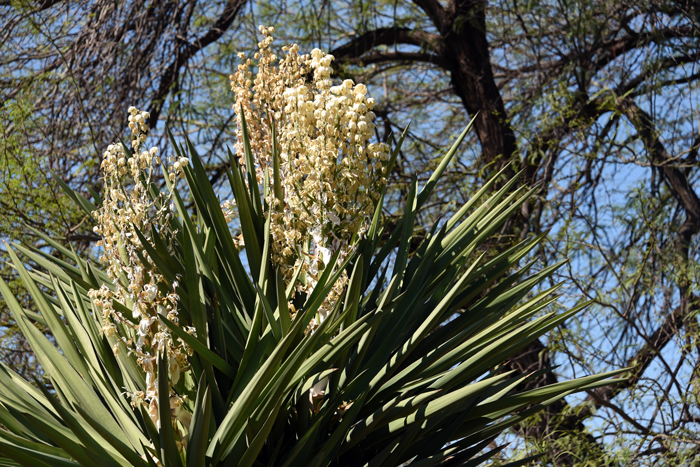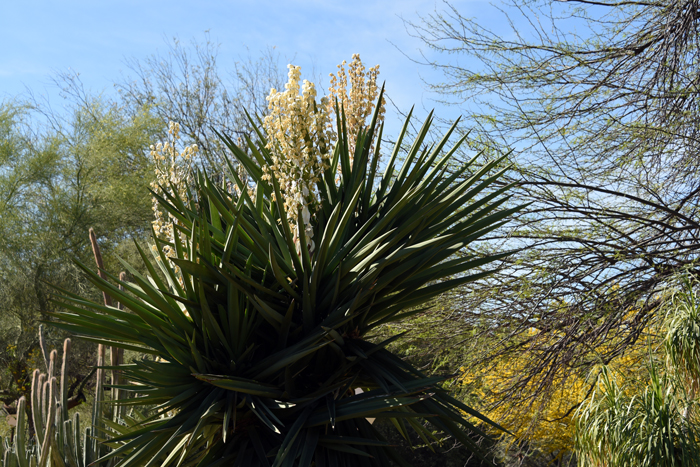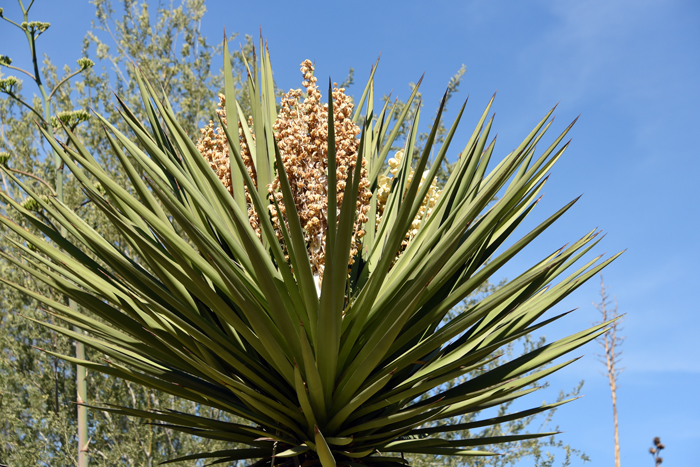 Scientific Name: Yucca faxoniana
Common Name: Eve's-Needle

Also Called: Carneros Yucca, Faxon Yucca, Giant Dagger, Spanish Bayonet, Spanish Dagger, (Spanish: Palma de San Pedro, Palma Samandoca, Palma Barreta, Palma Loca, Palmilla)

Family: Agavaceae, Agave or Century Plant Family (Reclassified to Asparagaceae)

Synonyms: (Samuela carnerosana, Samuela faxoniana, Yucca carnerosana)

Status: Native

Duration: Perennial

Size: 8 to 23 feet tall, (2.5-6.9 m) including flowering (inflorescence) stems.

Growth Form: Tree or shrub; plants solitary and erect, arborescent 1 stem or trunk, 1 or 2 branches upright.

Leaves: Green, evergreen, leaves long, bayonet-like, erect, yellowish green, rigid, smooth, glabrous, leaf margins conspicuous, curling with filiferous hairs, brown.

Flower Color: White to greenish white, flowering stem (inflorescence) erect, paniculate; flowers hanging (pendulous); fruits are pendent, elongated and baccate seeds are black.

Flowering Season: March to April

Elevation: 2,500 to 6,800 feet (800 - 2100 m)

Habitat Preferences: Hillsides, rocky slopes, flat desert areas, flat plains.

Recorded Range: Eve's Needle is relatively rare and uncommon the United States where it occurs in southern New Mexico and southwestern Texas (centered in Big Bends National Park in the in the central Rio Grande valley in the Chihuahuan Desert. It is also native to northeast Mexico where it occurs in larger numbers in (Chihuahua, Coahuila).

North America & US County Distribution Map for Yucca faxoniana.

U.S. Weed Information: No information available.
Invasive/Noxious Weed Information: No information available.
Wetland Indicator: No information available.
Threatened/Endangered Information: No information available.

Genus Information: In North America there are 28 species and 45 accepted taxa overall for Yucca. World wide, The Plant List includes 49 accepted species names and includes a further 196 infraspecific rank for the genus.

In the Southwestern United States: Arizona has 8 species of Yucca, California has 3 species, Nevada has 5 species, New Mexico has 10 species, Texas has 18 species, Utah has 7 species. All data is approximate and subject to taxonomic changes.

Comments: Eve's Needle or Spanish Bayonet is often used for landscaping in arid and semiarid regions of Texas and New Mexico with its dramatic form and showy flowers.

In Southwestern Desert Flora also see: Banana Yucca, Yucca baccata; Blue Yucca, Yucca rigida; Beaked Yucca, Yucca rostrata; Joshua Tree, Yucca brevifolia and Soaptree Yucca, Yucca elata.

Importance to Wildlife, Birds and Livestock

The sweet oblong fruits of Yucca species, and their seeds as well are fed on by birds, deer, small mammals and nectar-feeding bats.

Special Value to Native Bees, Butterflies and Insects

Yucca's attract many butterflies, moths and insects however actually records appear absent for this species in particular. Yucca Moths of the genus Tegeticula are known to pollinate Yucca flowers. - Find out more from (BOMONA) Butterflies and Moths of North America.

Etymology:

The genus Yucca is from the Carib (Island Carib, South America) name for "manihot" or "cassava" which is a Euphorbia genus erroneously applied to the Yucca genus because of the lily-like appearance of the sword-like leaves. The genus Yucca was published by Carl Linnaeus in 1753.

The species epithet "faxoniana" is named in honor of Charles Edward Faxon (1846-1918), an American botanical artist and instructor of botany. Mr. Faxon was born in Jamaica Plain, Massachusetts.

Ethnobotany

The fruit of Yucca faxoniana is used as a food source, raw, roasted or dried and ground into meal. The plant leaves are also used as a fiber in basketry, cloth, mats, ropes and sandals. The roots were also used as a red pattern element in Apache baskets.