Larrea tridentata, Creosote Bush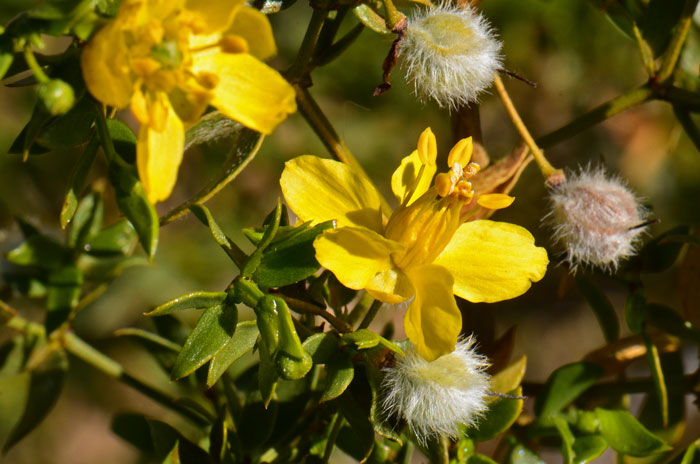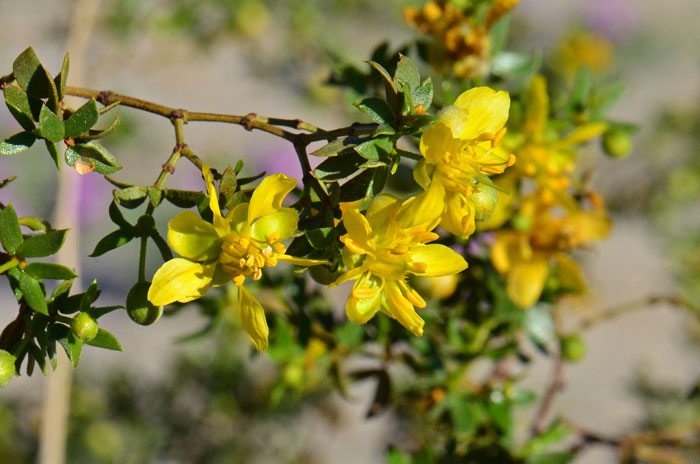 Scientific Name: Larrea tridentata
Common Name: Creosote Bush
Also Called: Creosotebush, Creosote (Spanish: Hediondilla, Gobernadora, Guamis)
Family: Zygophyllaceae, Caltrop Family
Synonyms: (Larrea divaricata, Larrea divaricata subsp. tridentata, Larrea mexicana)
Status: Native
Duration: Perennial
Size: Up to 12 feet, usually much less.
Growth Form: Shrub; plants drought-tolerant; brittle branches.
Leaves: Green; deciduous; opposite; thick hard covering (resin); bifoliolate; lanceolate; stipules not shiny; strong medicinal fragrance,
Flower Color: Yellow; inflorescence, flowers solitary from axils; sepals ovoid; fruits reddish-brown, spherical, fuzzy (villous) 1-seeded.
Flowering Season: April to May and sparsely throughout the year.
Elevation: 5,000 feet or lower; below 3,000 feet in California.

Habitat Preferences: Desert scrub including dry plains and mesas.

Recorded Range: Larrea tridentata is found primarily in the southwestern United States in AZ, CA, NM, NV, TX, UT. It is also native throughout Baja California and Mexico. In Arizona it is found throughout most of the state with few records in Apache, Navajo and Gila counties.

North America & US County Distribution Map for Larrea tridentata.

U.S. Weed Information: In North America Larrea tridentata can be weedy or invasive according to the following authoritative sources: Weeds of the West. Weeds of the West first considers plants that might interfere with livestock grazing. Plants included here may become weedy or invasive.

Invasive/Noxious Weed Information: No information available.
Wetland Indicator: No information available.
Threatened/Endangered Information: No information available.

Genus Information: In North America there are 1 species and 3 accepted taxa overall for Larrea. World wide, The Plant List includes 6 accepted species names and includes a further 4 infraspecific rank for the genus.

In the Southwestern United States there is 1 species of Larrea. All data is approximate and subject to taxonomic changes.

There are 2 varieties in Larrea tridentata;
Larrea tridentata var. arenaria, Creosote Bush, (CA);
Larrea tridentata var. tridentata, Creosote Bush, (AZ, CA, NM, NV, TX, UT).

Comments: Larrea tridentata is an important dominant or co-dominant species in most plant communities in the Mojave, Sonoran and Chihuahuan deserts. In fact, the Creosote Bush is probably the most important element in the southwestern United States deserts. The bushes provide shade for desert mammals that bed around the plants in the heat of the day. Reptiles and amphibians use the plants for food and as a look-out post for enemies. The burrows under the bush, and among the roots, provide a place for reptiles and amphibians to rest and hide from the hot desert sun (estivate). Other mammals frequently use the Creosote Bush for cover and underground dens including the desert Kangaroo rats and others use the plants as a food source for both its seeds and vegetation as well; rodents and rabbits respectively.

The Creosote Bush is also very important to a host of insects which use many parts of the bush including flowers, leaves, stems and underground burrows. One such insect, a Gall Midge (Asphondylia auripila), deposits eggs and a fungal spore in the bush that later produces a larvae and larvae food and at the same time causes a grotesque looking gall to develop on the bush (see photo above).

Creosote Bush is one of the oldest living plants in the world, known to reach ages of several thousand years and some Creosote Bush clone colonies may be the oldest living organisms. One such clone in Johnson Valley, California is estimated at 9,400 years (Vasek, Frank C., 1980) and in a separate study, another bush was estimated (McAuliffe, Joseph R., 1988) to be 1,250 years at a study site in Dateland, California.

Ethnobotany

Ethno-Herbalist: Southern California Ethnobotany; Ethnobotany of Southern California Native Plants: Creosote Bush, Larrea tridentata.

Larrea tridentata has been used for a multitude of medicinal purposes by southwestern American indigenous peoples.
Coahuilla Drug, Gastrointestinal Aid, Infusion of leaves taken for bowel complaints and consumption.
Diegueno Drug, Antirheumatic (External), Decoction of leaves used as a bath for rheumatism and painful arthritis.
Hualapai Drug, Respiratory Aid, Infusion of leaves taken or leaves steamed for congestion and asthma.
Hualapai Drug, Disinfectant, Infusion of leaves used as a disinfecting skin cleanser.
Kawaiisu Drug, Analgesic, Decoction of leaves used as a wash for sore and aching parts of the body.
Mahuna Drug, Disinfectant, Infusion of plant used as a disinfectant and deodorizer.
Pima Drug, Antidiarrheal, Plant gum chewed and swallowed as an antidysenteric and intestinal antipasmodic.
Yavapai Drug, Throat Aid, Decoction of leaves and stems taken for sore throat.
Cahuilla Drug, Antirheumatic (External), Plant made into liniment used by elderly people for swollen limbs caused by poor blood circulation.
See ethno-botanical uses at Native American Ethnobotany, University of Michigan, Dearborn.