Aliciella latifolia, Broad-leaf Gily-flower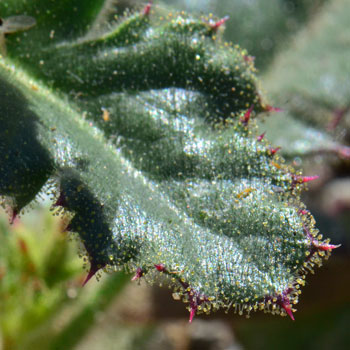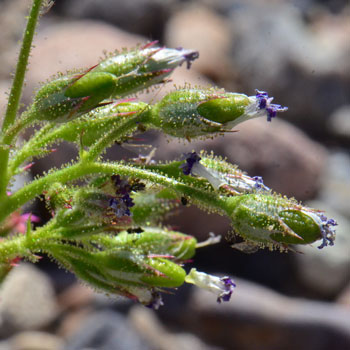 Scientific Name: Aliciella latifolia
Common Name: Broad-leaf Gily-flower
Also Called: Broad-leaved Gilia, Broadleaf Gilia
Family: Polemoniaceae, Jacob's Ladder or Phlox Family
Synonyms: (Gilia latifolia, Gilia latifolia var. imperialis)
Status: Native
Duration: Annual
Size: Up to 12 inches more or less.
Growth Form: Forb/herb; stems glandular (see photos above).
Leaves: Greens, leaves also glandular, soft hairs, leaves simple, oblong-ovate, dentate (sharply few-toothed) or shallow lobes.
Flower Color: Pink, pink-purple; inflorescence open cymose panicle, sub-sessile or with pedicel, calyx glandular, calyx lobes equal to or longer than the corolla tube, corolla funnel-form, fruit a capsule, numerous seeds.
Flowering Season: March to April.
Elevation: Up to 2,000 feet.

Habitat Preferences: Deserts, washes, rocky hillsides in Creosote Bush communities most particularly in desert varnish.

Recorded Range: Aliciella latifolia is found in the southwest United States in AZ, CA, NV and UT. The primary range for this species is in southeast California. In Arizona it has a non-contiguous distribution. It is found in Mohave, Yuma and Apache counties. Aliciella latifolia is also found in northern Baja California and northern Mexico.

North America & US County Distribution Map for Aliciella latifolia.

U.S. Weed Information: No information available.
Invasive/Noxious Weed Information: No information available.
Wetland Indicator: No information available.
Threatened/Endangered Information: No information available.

Genus Information: 20 species in Aliciella in North America, primarily throughout the west ½ of the United States. 7 species in Arizona and New Mexico, 8 species in California and 0 (no) species in Texas.

The Plant List includes 21 accepted species names for Aliciella.

2 sub-species in Aliciella latifolia:
Aliciella latifolia subsp. imperialis, Broadleaf Gilia (UT)
Aliciella latifolia subsp. latifolia, Broadleaf Gilia (AZ, CA, NV, UT)

Comments: Aliciella latifolia was originally classified in the genus Gilia. Broad-leaf Gily-flower is mostly a Mojave Desert species, less common in the Sonoran Desert.