Proboscidea parviflora, Doubleclaw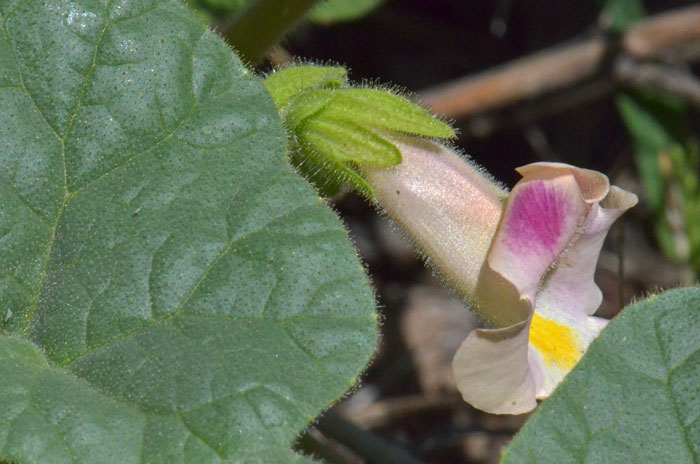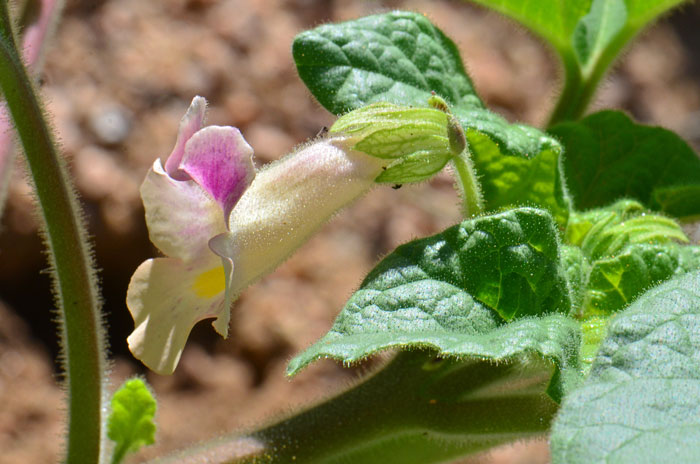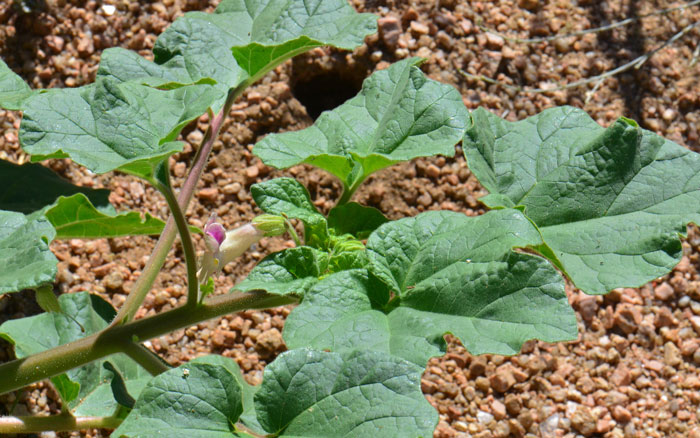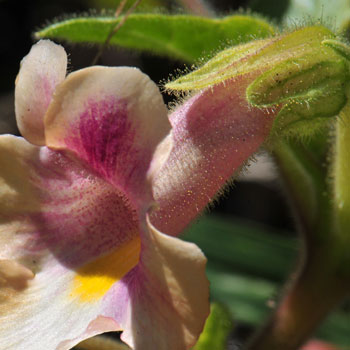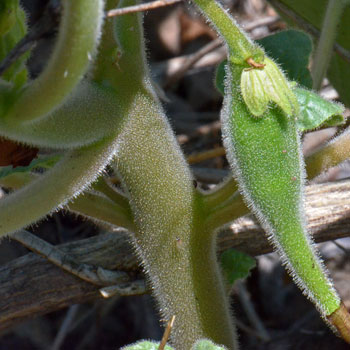 Scientific Name: Proboscidea parviflora
Common Name: Doubleclaw
Also Called: Devil's Claw, Devilsclaw, Doubleclaw, Red Devils Claw, Unicorn Plant (Spanish: Cuernitos)
Family: Pedaliaceae or Pedalium Family
Synonyms: (Martynia parviflora, Proboscidea crassibracteata)
Status: Native
Duration: Annual
Size: Up to 2 ½ feet or more.
Growth Form: Forb/herb; ill-smelling.
Leaves: Green, fuzzy, large, nearly 6 inches wide, ovate or triangular, 3 or more (7) lobes nearly entire to shallowly sinuately-lobed.
Flower Color: White to pink; corolla reddish-purple dotted or blotched with red-purple and streaked with yellow; showy, nectar guides yellow, several flowers, up to 10 more or less per inflorescence; flowers not always over-topping leaves fruit fleshy, narrowly ovoid
Flowering Season: April to October.
Elevation: 1,000 to 5,000 feet, below 3,000 feet in California.

Habitat Preferences: Plains, mesas, roadsides and disturbed dry places.

Recorded Range: Doubleclaw is found in the southwest United States in; AZ, CA, NM, NV, TX and UT. Doubleclaw is also native throughout Baja California and northwestern Mexico.
North America & US County Distribution Map for Proboscidea parviflora.
U.S. Weed Information: No information available.
Invasive/Noxious Weed Information: No information available.
Wetland Indicator: No information available.
Threatened/Endangered Information: No information available.
Genus Information: The USDA Plants.gov website shows that North America has 5 species in Proboscidea.
The USDA Plants.gov also reports that Arizona has 2 species in Proboscidea, California has 3 species, New Mexico has 4 species and Texas has 5 species.
The Plant List includes 33 species rank for the genus Proboscidea. Of these 10 are accepted species names.
There are 4 varieties in Proboscidea parviflora:
Proboscidea parviflora subsp. parviflora, Doubleclaw (Recorded Range above);
Proboscidea parviflora var. hohokamiana, Doubleclaw (AZ only);
Proboscidea parviflora var. parviflora, Doubleclaw (Recorded Range above);
Proboscidea parviflora subsp. sinaloensis, excluded.
Comments: The Doubleclaw and several other species of Proboscidea are unusual and beautiful with their large showy flowers. Their unique "Devils Claw" split seed pods with hooks on the ends attracts a lot of attention from many fans of these interesting plants. The "hooks" on the seedpods are "caught" on the fur and feet of passing animals thus spreading the seeds to new locations.
In Southwest Desert Flora also see Desert Unicorn-plant, Proboscidea althaeifolia.
Doubleclaw is used by the Havasupai as a dried food, and the seeds also used for food and the pods are used for the black designs in baskets. See ethno-botanical uses at Native American Ethnobotany, University of Michigan, Dearborn.