Sphaeralcea ambigua, Desert Globemallow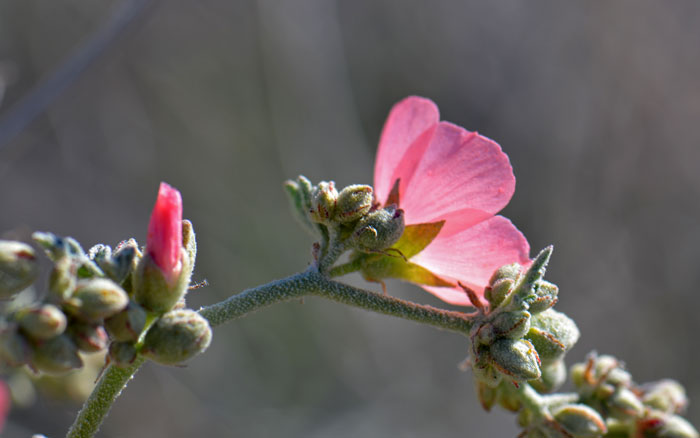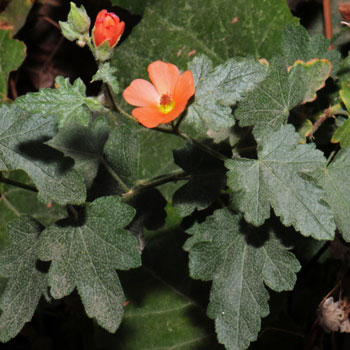 Scientific Name: Sphaeralcea ambigua
Common Name: Desert Globemallow
Also Called: Apricot Globe-mallow, Apricot Mallow, Desert Mallow, Globe mallow, Sore-eye Poppy, (Spanish: Mal de Ojo, Malva)
Family: Malvaceae, Globe Mallow Family
Synonyms: ()
Status: Native
Duration: Perennial
Size: Up to 3 feet.
Growth Form: Forb/herb, subshrub; growth shrubby, herbage woolly (canescent), stems erect and or sprawling.
Leaves: Green, yellow-green; leaf shape variable, 3 lobed, lobes weak or absent, cordate, margins wavy, scalloped (crenate).
Flower Color: Apricot, orange, orange-red, apricot-orange, pink, purplish-pink; flowers semi-large in clusters on tips of weak hanging stems, fruit a schizocarp with 9 or more segments each containing 2 seeds.
Flowering Season: January to December with sufficient rainfall, February to November in Texas.
Elevation: Below 3,500 feet in Arizona, 500 to 7,500 feet in California.

Habitat Preferences: Dry rocky slopes and edges of sandy washes, clay soils, alkaline soils, prefers creosote bush scrub and desert chaparral communities.

Recorded Range: Desert Globemallow is found in the southwest United States in; AZ, CA, NV and UT. In Arizona it occurs in the western 2⁄3 and northeast parts of the state. It is also found throughout Baja California and northwestern Mexico.
North America & US County Distribution Map for Sphaeralcea ambigua.
U.S. Weed Information: No information available.
Invasive/Noxious Weed Information: No information available.
Wetland Indicator: No information available.
Threatened/Endangered Information: No information available.
Genus Information: 26 species in Sphaeralcea in the western half of North America. 17 species in Arizona, 14 species in New Mexico, 8 species in California and 12 species in Texas.
4 sub-species in Sphaeralcea ambigua:
Sphaeralcea ambigua subsp. ambigua, Apricot Globemallow, (AZ, CA, NV, UT);
Sphaeralcea ambigua subsp. monticola, Desert Globemallow, (CA, NV, UT);
Sphaeralcea ambigua subsp. rosacea, Rose Globemallow, (AZ, CA);
Sphaeralcea ambigua subsp. rugosa, Desert Globemallow, (CA).
The Plant List includes 170 scientific plant names of species rank for the genus Sphaeralcea. Of these 53 are accepted species names.
Comments: The species epithet for Desert Globemallow "ambigua" is a reference to the leaf shape which is extremely variable and compounded with 4 similar sub-species. The same is true for multiple flower colors.
In Southwest Desert Flora also see: Scarlet Globemallow, Sphaeralcea coccinea; Coulter's Globemallow, Sphaeralcea coulteri; Fendler's Globemallow, Sphaeralcea fendleri; and Rusby's Globemallow, Sphaeralcea rusbyi.
Desert Globemallow been used as an external anti-rheumatic drug, a cathartic, cold remedy and contraceptive by the Shoshone (Shoshoni) Native American tribe. See ethno-botanical uses at Native American Ethnobotany, University of Michigan, Dearborn.