Vitex agnus-castus, Chaste Tree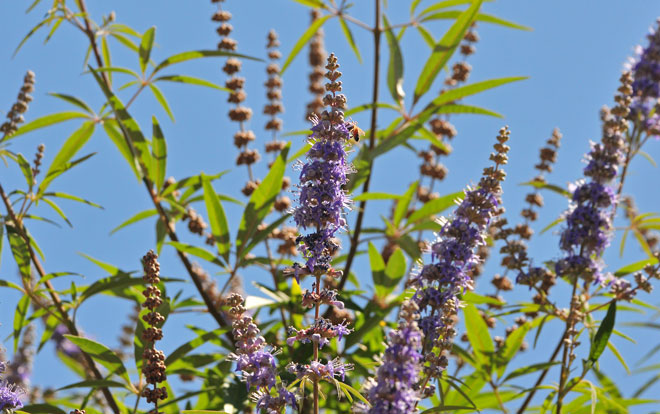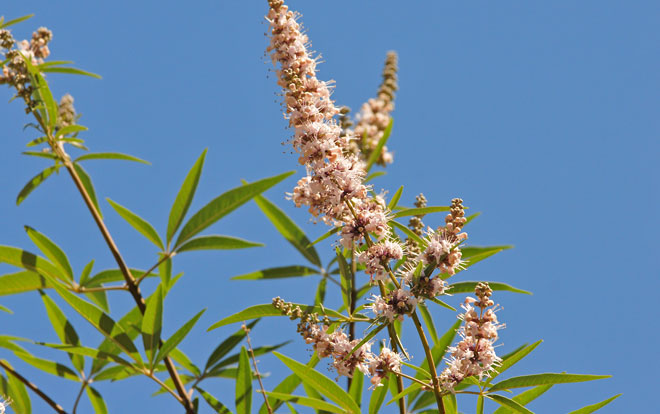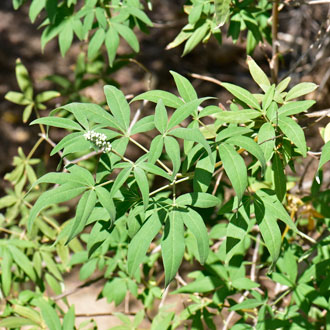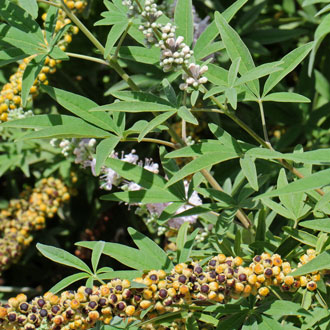 Scientific Name: Vitex agnus-castus
Common Name: Chaste Tree
Also Called: Abraham's Balm, Chasteberry, Hemp Tree, Indian Spice, Lilac Chaste Tree, Lilac Chastetree, Monk's Pepper, Sage Tree, Vitex
Family: Lamiaceae or Mint Family
Synonyms: ()
Status: Introduced
Duration: Perennial
Size: Up to 10 feet or more.
Growth Form: Shrub, tree;
Leaves: Green; leaves fragrant, deciduous, palmately compound with 5 or more leaflets.
Flower Color: Violet, violet blue or white; showy spikes of lavender flowers.
Flowering Season: Summer, June through August
Elevation: Sea Level to 3,500 feet depending on exposure.

Habitat Preferences: Sandy well-drained areas with plenty of moisture.

Recorded Range: In the United States Chaste Tree is found mostly in the southern United States. In Arizona it is found in Navajo and Maricopa Counties. It is native to the Mediterranean Region.

North America & Counties Distribution Map for Vitex agnus-castus.

U.S. Weed Information: No information available.
Invasive/Noxious Weed Information: No information available..
Wetland Indicator: No information available.
Threatened/Endangered Information: No information available.

Genus Information: 9 species in Vitex mostly throughout the southern half of the United States. 1 species in Arizona, California and New Mexico. The Plant List includes 508 scientific plant names of species rank for the genus Vitex. Of these *215 are accepted species names. *This data is currently under review by the The Plant List.

2 varieties in Vitex agnus-castus;
Vitex agnus-castus var. agnus-castus, Lilac Chastetree (Recorded Range above);
Vitex agnus-castus var. caerulea, Lilac Chastetree (Texas only).

Comments: Chaste Tree is not native to the southwest or even North America. It originated in the Mediterranean Region and was introduced to the Western Hemisphere for medicinal and horticultural purposes. With its widespread use for cultivated purposes, and ability to thrive in warm temperate and subtropical regions, it has spread as an invasive species primarily in the southern United States. Chaste Tree has fragrant foliage and readily attracts large numbers of butterflies and insects.

Vitex agnus-castus is found growing in waste areas with sufficient moisture particularly throughout the Salt River bottom in central Arizona. All plants photographed above were growing in the Salt River or Indian Bend Wash, Maricopa County, Arizona.