Senegalia greggii, (=Acacia greggii), Catclaw Acacia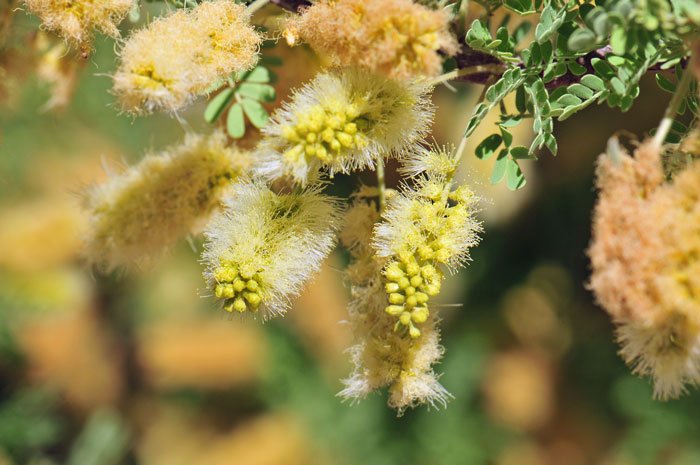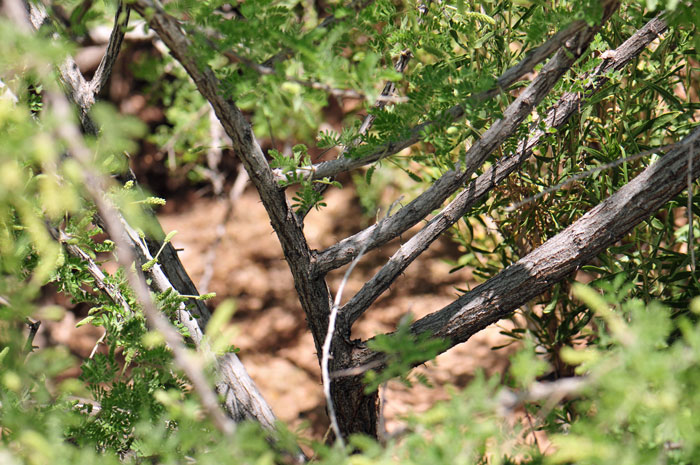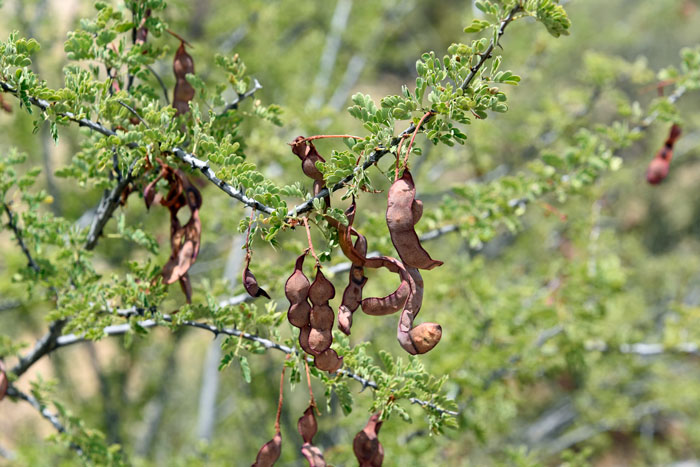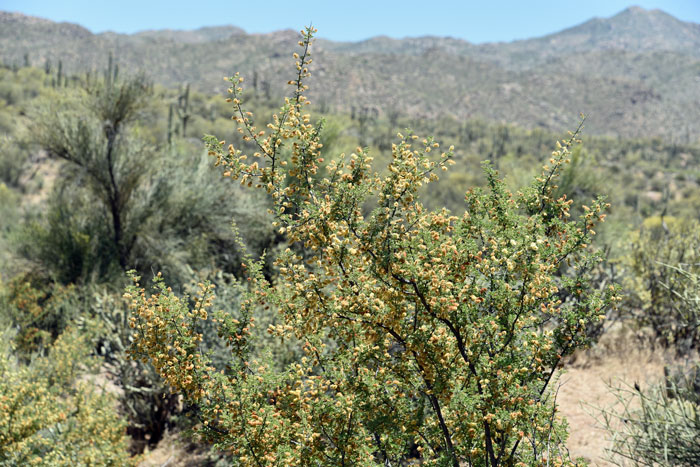 Scientific Name: Senegalia greggii, (=Acacia greggii)
Common Name: Catclaw Acacia

Also Called: Catclaw, Devilsclaw, Gregg Acacia, Gregg Catclaw, Long-flower Acacia, Long-flower Catclaw, Texas Catclaw, Wait-a-Minute Bush; (Spanish: Uña de Gato, Tèsota, Gatuño, Palo Chino, Algarroba, Tepame).

Family: Fabaceae or Leguminosae Family

Synonyms: (Acacia greggii var. arizonicas, Senegalia greggii)

Status: Native

Duration: Perennial

Size: From 5 to 12 feet (1.5 to 3.6 m) or more. (20 feet, 6 m)

Growth Form: Small tree or large shrub; rounded with many branches; armed with sharp, stout, cat-claw like thorns; form thickets along streams and washes.

Leaves: Green or gray-green; 0.8 to 2 inches (2-5 cm) long; alternate, twice-pinnately compound; drought deciduous and will lose leaves most of the year.

Flower Color: Creamy-white with yellow; flowers in 2 inch spikes, fragrant, fruit a curvy, contorted pod or (legume).

Flowering Season: April to October; April to June in California.

Elevation: 300 to 4,600 feet (100 to 1,400 m).

Habitat Preferences: chaparral communities, arroyos, along streams, stream banks and washes; soils sandy, rocky, good drainage, grows in alkaline soils.

Recorded Range: Acacia greggii is found in the southwestern United States in AZ, CA, NM, NV, TX and UT. It is also native to Baja California and northern Mexico. In Arizona Catclaw Acacia is found throughout most of the state with few records in Apache and Navajo Counties.

North America & US County Distribution Map for Acacia greggii as Senegalia greggii.

North America species range map for Catclaw Acacia, Senegalia greggii, (=Acacia greggii):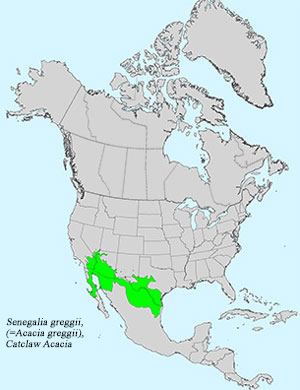 Click image for full size map

U.S. Weed Information: Unknown
Invasive/Noxious Weed Information: Unknown

U.S. Wetland Indicator: In North America Acacia greggii has the following wetland designations;

Arid West, FACU
Western Mountains, Valleys, and Coast FACU.
Great Plains, UPL;

FACU, Facultative Upland, usually occur in non-wetlands, but may occur in wetlands
UPL, Obligate Upland, almost never occur in wetlands.

Threatened/Endangered Information: Unknown

Genus Information: In North America, USDA Plants Database lists 19 species and 22 accepted taxa overall for Senegalia. Worldwide, The Plant List includes 66 accepted species names for the Senegalia and a further 7 scientific plant names of infraspecific rank for the genus.

In the Southwestern United States: Arizona has 2 species of Senegalia, California has 2 species, Nevada has 2 species, New Mexico has 3 species, Texas has 7 species and Utah has 2 species. Data approximate, subject to revision.

The genus Senegalia was published in 1938 by Constantine Samuel Rafinesque-Schmaltz, (1783–1840).

Comments: Catclaw Acacia is one of the most common and iconic desert scrub plants where found. This species is long-lived and adapted to survive extreme desert conditions.

The shrubs are loaded with sharp curved hooked thorns and near impossible to navigate through as their thorns are formidable. They are tough enough to catch, hold and tear clothing as well as lacerate the skin.

The reddish-brown wood is hard, beautiful and used to make tool handles, and for firewood.

The species epithet "greggii" was named to honor Josiah Gregg, (1806-1850).

Also see in Southwest Desert Flora Whitethorn Acacia, Vachellia constricta and Sweet Acacia, Vachellia farnesiana.

Importance to Wildlife, Birds and Livestock

Senegalia greggii has attractive flowers, the flowers, their seeds and plants may be visited by hummingbirds and/or small mammals including rodents and granivorous birds in search of food, nectar and protection through cover.

****Special Value to Nectar-bees and Insects****

Catclaw Acacia, Senegalia greggii, flowers attract desert pollinators including honeybees and native bees.

Catclaw Acacia has extra-floral nectaries (glands for the production of sugar-rich nectar), thought to connect these sugar-rich glands to insects. The glands provide nectar to a variety of pollinators including insects such as ants, wasps, bees, butterflies, moths and honey consumers such as hummingbirds and bats. Ants are known to use the glands as a source of food and water and may provide some defense for the plant against herbivorous insects.

U.S. Forest Service; Fire Effects Information System (FEIS)

See the U.S. Forest Service online collection of reviews of the scientific literature for management considerations of Catclaw Acacia are found here.

Etymology:

The genus "Senegalia" is a derivation of Senegal in Africa.

The genus Senegalia was published in 1938 by Constantine Samuel Rafinesque-Schmaltz, (1783–1840)

The species epithet "greggii" is named in honor of Josiah Gregg, (1806-1850).

Ethnobotany - Native American Ethnobotany; University of Michigan - Dearborn

Senegalia greggii is used for a multitude of purposes by southwestern United States indigenous peoples.
Cahuilla Fiber, Building Material; Considered an outstanding construction material and a fine firewood.
Cahuilla Food, Porridge, Vegetable; Dried pods ground into flour and used to make mush or cakes and Pods eaten fresh.
Diegueno Food, Fodder; Used to feed domesticated animals.
Havasupai Fiber, Basketry Split twigs used as basket material.;
Havasupai Fiber, Brushes Brooms Twigs made into a brush and used to brush off metates.
Havasupai Food, Bread & Cake Seeds stored, roasted, ground and made into bread.
Papago Fiber, Basketry Thorns removed, twigs split in half lengthwise and used to make serviceable baskets.
Papago Fiber, Other; Twigs used for curved structures in wrapped weaving.
Papago Other, Hunting & Fishing Items; Fitted around deer hunters' heads and used in sizing deer head disguises.
Papago Other, Incense & Fragrance; Buds and blossoms dried and used by women as perfume sachets.
Papago Other, Tools; Curved rods used for fleshing and dehairing animal skins.
Papago Other, Tools; Short transverse sticks affixed to poles and used to dislodge saguaro fruits from the shafts.
Papago Other, Tools; Stems peeled of bark and thorns and used to beat sheep hides to make them more pliable.
Pima Fiber, Building Material; Bushes dried, piled high and used as brush fences.
Pima Fiber, Furniture; Branches used to make cradle frames.
Pima Food, Unspecified Beans formerly used for food.
Pima Other, Fuel; Bushes dried and used for firewood.
Pima Other, Hunting & Fishing Items; Wood used to make bows.
Pima, Gila River Food, Starvation Food; Seeds used as 'starvation food.'
Seri Food, Porridge; Beans ground into a meal, mixed with water or sea lion oil and eaten.

See complete listing of ethno-botanical uses at Native American Ethnobotany, University of Michigan, Dearborn.

Ethnobotany, Ethno-Herbalist

Ethno-Herbalist: Southern California Ethnobotany; Ethnobotany of Southern California Native Plants: Catclaw Acacia, Acacia greggii, (Senegalia greggii).