Dieteria canescens, Hoary Tansyaster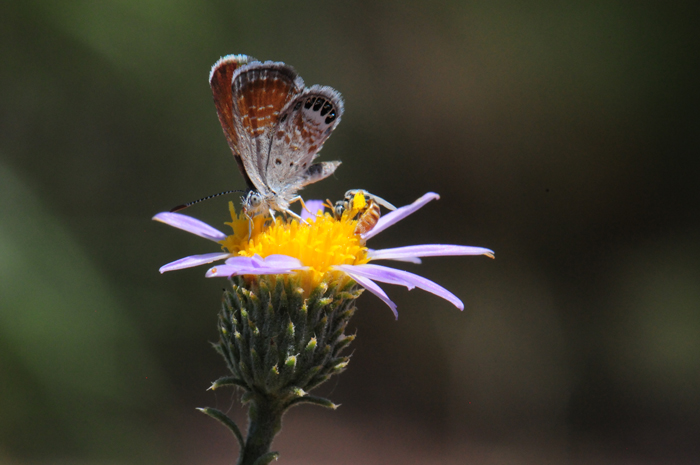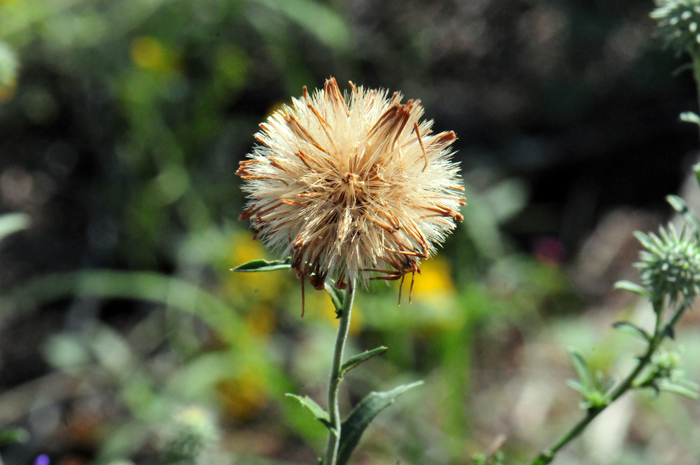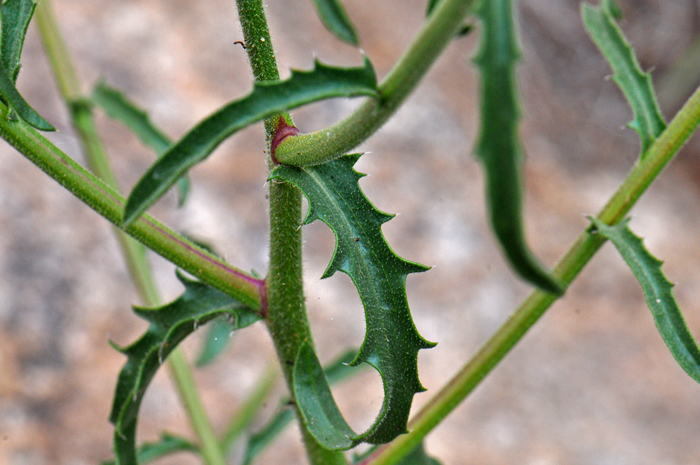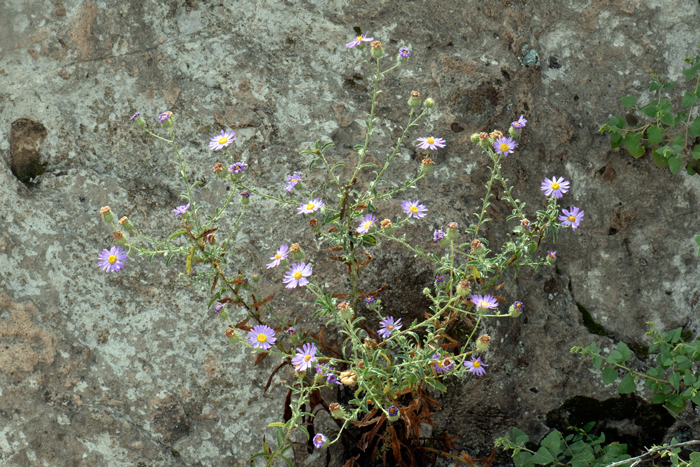 Scientific Name: Dieteria canescens
Common Name: Hoary Tansyaster

Also Called: Hoar False Tansy-Aster, Hoary Aster, Hoary Goldenweed, Hoary Machaeranthera, Hoary Tansy-aster, Purple Aster

Family: Asteraceae, Sunflower Family

Synonyms: (Aster canescens Machaeranthera oxylepis, Machaeranthera canescens)

Status: Native

Duration: Annual to short lived perennial.

Size: 2 to 3 feet (70-91 cm) or more.

Growth Form: Forb/herb; 1 or more branches from base, stems branching above, stems with variable pubescent or hairless (glabrous).

Leaves: Green; leaves alternate; blades linear to lanceolate or oblong; leaves generally sessile; leaf edges or margins smooth or with small teeth; leaf surfaces smooth (glabrous), covered with minute soft hairs (puberulent) or covered with dense white downy hairs (canescent).

Flower Color: Purple or bluish-purple with yellow centers or rarely white with yellow centers; inflorescence) terminal panicles (flowers on stem tips); flower heads with both ray (10 to 25 per head) and disk (many) florets; bracts or phyllaries surrounding floral heads generally with short reflexed tips; fruit is a cypsela with hairy pappus, similar to a dandelion puff ball.

Flowering Season: June to November; August through October in Texas

Elevation: 150 to 8,000 feet (46-2,400 m)

Habitat Preferences: Various habitats across a wide geographic range, pine forests, chaparral and upper and lower deserts; usually dry areas, open areas, roadsides and disturbed areas.

Recorded Range: Hoary Tansyaster is found in the western half of North America and northern Baja California and far northern Mexico (Sonora, and Chihuahua).

North America & US County Distribution Map for Dieteria canescens.

North America species range map for Dieteria canescens:
North American range map courtesy of Virginia Tech, Dept. of Forest Resources & Environmental Conservation
Click image for full size map

U.S. Weed Information: In North America Dieteria canescens can be weedy or invasive according to the following authoritative sources:

Weeds of the West.

Plants included here may become weedy or invasive.

Wetland Indicator: Unknown
Invasive/Noxious Weed Information: Unknown
Threatened/Endangered Information: Unknown Genus Information: In North America, according to Flora of North America there are 3 species and 13 accepted taxa overall for Dieteria. Worldwide, The Plant List includes 2 accepted species names and a further 60 scientific names of infraspecific rank for the genus.

There are 2 sub-species in Machaeranthera (=Dieteria) canescens and 11 varieties;

Machaeranthera canescens ssp. canescens, with 8 varieties
Machaeranthera canescens ssp. glabra, with 3 varieties

Comments: Hoary Tansyaster is a common species that was recently re-classified from Machaeranthera to Dieteria. Hoary Tansyaster is highly variable across its range and similar in appearance to several Machaeranthera species but particularly similar in appearance to Tansyleaf Tansyaster, Machaeranthera tanacetifolia. However, in general, Hoary Tansyaster has leaves that are linear or lanceolate and not pinnatifid.

Also see Mesa Tansyaster, Machaeranthera tagetina.

Importance to Wildlife, Birds and Livestock

Dieteria canescns flowers and plants may be visited by hummingbirds and/or small mammals in search of food, nectar or cover.

Special Value to Native Bees, Butterflies and Insects

Dieteria canescens is likely visited by butterflies, bees and small insects.

Etymology:

The genus Dieteria (Dieter'ia:) according to David Hollombe, Thomas Nuttall, who was the publisher of the genus, indicated that he intended the meaning of this name to relate to the biennial habit of the type species. It is derived from the Greek di-, "two or twice," and etesios, "yearly, annual". The genus Dieteria was published by Thomas Nuttall in 1840.

The species epithet canescens (canes'cens:) means covered with short gray or white hairs as in the botanical definition canescent.

Ethnobotany

Dieteria (=Machaeranthera) canescens was used for many medicinal purposes by United States indigenous peoples.
Navajo Drug, Nose Medicine, Throat Aid; Dried and pulverized plant used as a snuff for nose troubles and Dried and pulverized plant used as a snuff for throat troubles.
Okanagan-Colville Drug, Witchcraft Medicine; Used for witchcraft.
Zuni Drug, Emetic; Infusion of whole plant taken and rubbed on abdomen as an emetic.
Paiute Drug, Throat Aid; Poultice of mashed leaves applied to swollen jaw or neck glands.
Shoshoni Drug, Analgesic and Blood Medicine and as a Cathartic; Decoction of fresh or dried leaves taken for headaches and Decoction of whole plant taken as a blood tonic and as a Warm infusion of plant tops taken as a physic.
Shoshoni Drug, Eye Medicine and as a Tonic;Infusion of scraped roots used as an eyewash and a Decoction of whole plant was taken as a blood tonic.
Hopi Drug, Gynecological Aid and Stimulant; Decoction of plant taken by parturient women for any disorder as a Decoction of plant was taken as a strong stimulant.

See complete listing of ethno-botanical uses at Native American Ethnobotany, University of Michigan, Dearborn.