Acacia constricta, (Vachellia constricta), Whitethorn Acacia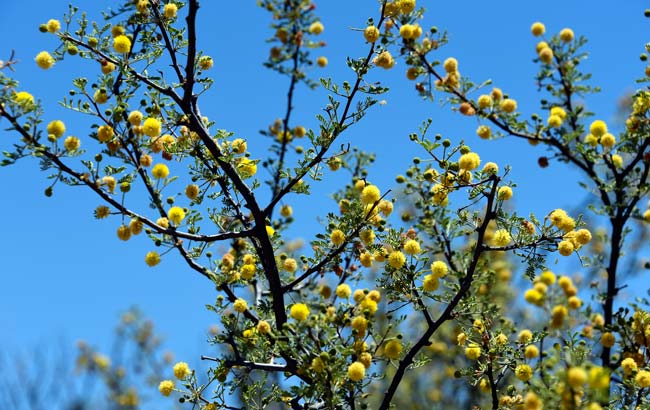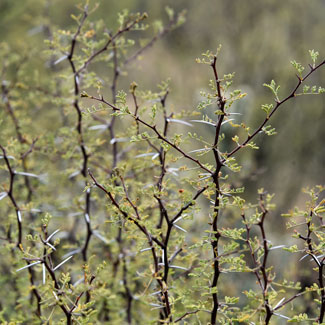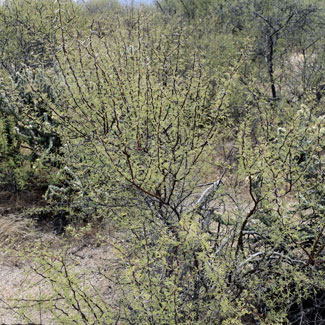 Scientific Name: Acacia constricta (Vachellia constricta)
Common Name: Whitethorn Acacia
Also Called: All-thorn Acacia Mescat Acacia, Mescat False Acacia, Twinthorn Acacia, White Thorn Acacia, White-thorn Acacia (Spanish: Huizache, Vinorama, Chaparro Prieto, Vara Prieta, Gigantillo, Largoncillo, Gidag)
Family: Fabaceae or Leguminosae Family
Synonyms: (Vachellia constricta)
Status: Native
Duration: Perennial
Size: Up to 12 feet or more, usually less.
Growth Form: Tree or large shrub; 3 to 6 mm long paired slender white spines.
Leaves: Green, deciduous, alternate, bipinnately compound; 3 to 6 paired leaflets per leaf.
Flower Color: Yellow or orange-yellow; dense globose heads; fruit a long straight pod (legume), fruit pod woody or papery, compressed between seeds.
Flowering Season: May to August
Elevation: 2,500 to 5,000 feet.

Habitat Preferences: Dry slopes, washes, flat desert areas and mesas, often in shallow caliche soil; mid- to high-elevations.

Recorded Range: Whitethorn Acacia is native to the southwest border states of AZ, NM and TX although it has since become naturalized in MD and VA. It also is native to Baja California and central and northern Mexico. In Arizona it occurs in the southern half and north central parts of the state.

North America & US County Distribution Map for Acacia constricta as Vachellia constricta.

U.S. Weed Information: No data available
Invasive/Noxious Weed Information: No data available
Wetland Indicator: No data available
Threatened/Endangered Information: No data available

Genus Information: 88 species in Acacia in the United States, 7 species in Arizona; The USDA Plants Database includes 2 varieties for Acacia constricta;
Acacia constricta var. constricta, Whitethorn Acacia and
Acacia constricta var. paucispina, Whitethorn Acacia.
Variety "paucispina" is most common at high elevations and larger than variety "constricta"; the spines of "constricta" are fewer and reduced; the leaves are typically larger on "paucispina" and "paucispina" grows in dense stands, while "constricta" does not.

Comments: Whitethorn Acacia is an attractive shrub with fragrant showy orange-yellow flowers in textured balls. It is somewhat similar in appearance to Catclaw Acacia. The sweet flowers attract nectar-seeking insects, butterflies and bees. This plant is well adapted to the arid conditions of desert life and will not produce leaves or flowers in times of severe drought. They are armed with long slender white spines.

Whitethorn acacia readily sprouts following fire and sprouting can occur as early as 1 month after fire. Livestock will consume the fruit pods but do not appear to relish the foliage. This species is long-lived; 70 or more years.

In Southwest Desert Flora also see White-ball Acacia, Acacia angustissima; Sweet Acacia, Acacia farnesiana and Catclaw Acacia, Acacia greggii.