Grindelia squarrosa, Curlycup Gumweed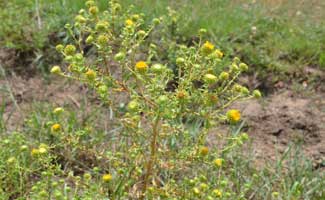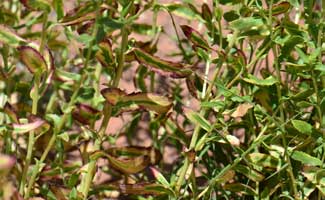 Scientific Name: Grindelia squarrosa
Common Name: Curlycup Gumweed
Also Called: Curleycup Gumweed, Curlytop Gumweed, Gumweed, Rosinweed, Tarweed
Family: Asteraceae, Sunflower Family
Synonyms: (Grindelia aphanacti, Grindelia nuda, Grindelia serrulata, Grindelia nuda var. aphanactis, Grindelia nuda var. nuda, Grindelia squarrosa var. serrulata, Grindelia squarrosa var squarrosa, Grindelia squarrosa var. nuda)
Status: Native
Duration: Annual, biennial or perennial.
Size: 1 ½ to 2 feet, up to 3 feet.
Growth Form: Forb/herb; erect or lying on the ground with tips ascending (decumbent), resinous glands exuding or sweating a white sap, multiple branches, stems sturdy.
Leaves: Green, or gray-green; glabrous, alternate, linear, lanceolate or oblanceolate, upper leaves may be without petioles (sessile), clasping, margins entire, toothed, smooth or glabrous, up to 5 or 6 inches.
Flower Color: Yellow; daisy-like of medium size heads, single, often many heads, with or without ray flowers, disk flowers many, fruit light brown achene somewhat thickened with awns.
Flowering Season: July through September.
Elevation: 4,000 to 7,500 feet.

Habitat Preferences: Upper deserts pinyon-juniper, pines in dry disturbed areas, roadsides, overgrazed rangeland.

Recorded Range: Grindelia squarrosa is found over most of North America, absent from the southeast states bordering the Atlantic Ocean and Gulf of Mexico.

North America & US County Distribution Map for Grindelia squarrosa.

U.S. Weed Information: Grindelia squarrosa is listed in: Weeds of the Northeast, Weeds of Nebraska and the Great Plains, Weeds of the United States and Canada Weeds of the West. Plants included here may become weedy or invasive.

Invasive/Noxious Weed Information: No data available.
Wetland Indicator: No data available.
Threatened/Endangered Information: No data available.

Genus Information: 28 species in Grindelia throughout the United States and Canada. At the time of this writing there are 6 species in Arizona. 3 varieties in Grindelia squarrosa, all called Curlycup Gumweed:
Grindelia squarrosa var. quasiperennis;
Grindelia squarrosa var. serrulata and
Grindelia squarrosa var. squarrosa.

Comments: Most species of Gumweeds have very distinct looking bright yellow flower heads surrounded by bright green succulent looking bracts curved outward. The flower heads and herbage emit a sticky gummy white colored resin. These plants are heavily visited by insects; ants, bees and butterflies. Taxonomic confusion exists between this species and the superficially similar looking Curlytop Gumweed, Grindelia nuda. Some botanists consider them as one species.

Many ethno-botanical uses have been identified for Grindelia squarrosa. See a complete species account from Native American Ethnobotany, University of Michigan, Dearborn.