Rhus trilobata, Skunkbush Sumac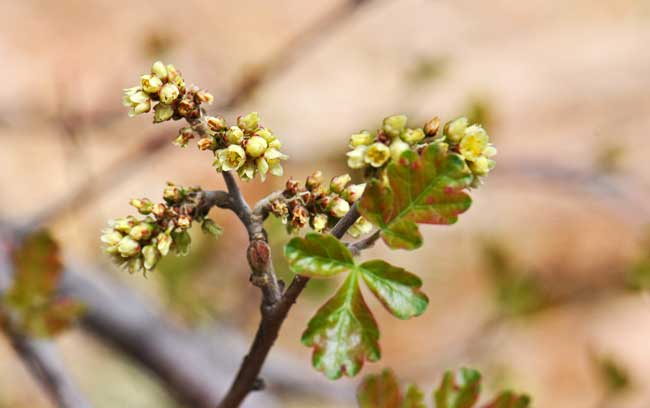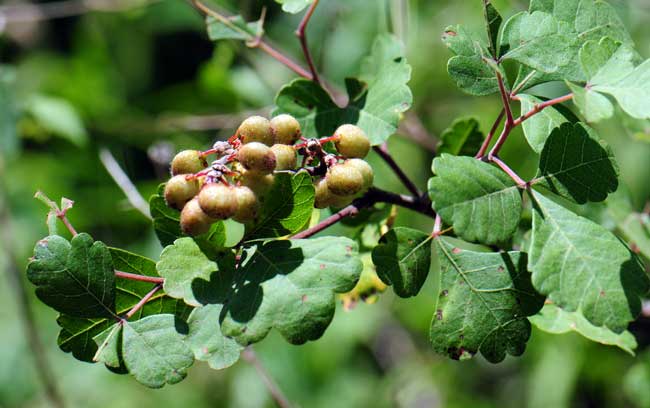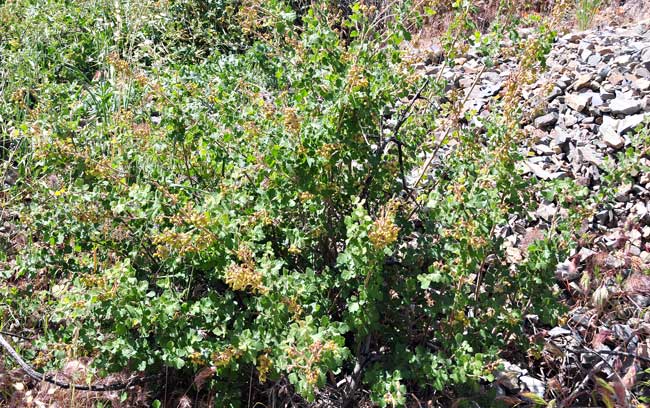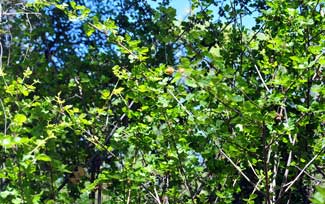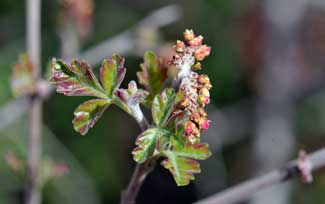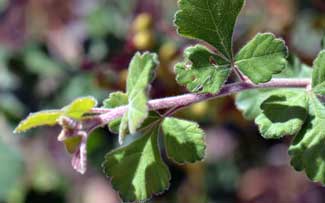 Scientific Name: Rhus trilobata
Common Name: Skunkbush Sumac
Also Called: Aromatic Sumac, Basketbush, Fragrant Sumac, Ill-scented Sumac, Lemon Sumac, Polecat Bush, Scented Sumac, Skunk Bush and Squaw Bush; (Spanish: Limita, Aigritas)
Family: Anacardiaceae, Sumac Family
Synonyms: ()
Status: Native
Duration: Perennial
Size: Up to 8 feet or more and 6 to 10 feet wide.
Growth Form: shrub, erect, multiple branches, arching, ascending.
Leaves: Green; deciduous, alternate, leaves with 3 leaflets or trifoliate, the terminal leaflet often has with several lobes, leaves are without pubescence.
Flower Color: Yellow or whitish-yellow; flowers sessile on tips of short stiff branches, blooms before leaves emerge, fruits vary in color from bright red to reddish-orange.
Flowering Season: March to June.
Elevation: 2,500 to 7,500 feet.
Habitat Preferences: Mid to upper deserts, mesas and lower mountain habitats, pinyon-juniper and chaparral, rocky hillsides, slopes and canyons.
Recorded Range: Rhus trilobata is native to the western half of the United States and Alberta and Saskatchewan, Canada. Also native to northern Mexico.

North America & US County Distribution Map for Rhus trilobata.

U.S. Weed Information: No data available
Invasive/Noxious Weed Information: No data available
Wetland Indicator: No data available.
Threatened/Endangered Information: No data available

Genus Information: 20 species in Rhus in the United States, Canada and Mexico, 7 in Arizona. 6 varieties in Rhus trilobata mostly in southwestern states, all 6 varieties recorded in Arizona.

Comments: Skunkbush is so named because it gives off an odor when the leaves or stems are bruised or intentionally crushed. This odor is ill-scented to some while fragrant to others. Its scientific epithet "trilobata" is a direct reference to its trifoliate leaves. Skunkbush Sumac is a widespread variable species with 6 varieties.

Some authorities now consider this species a variety of Rhus aromatica; Rhus aromatica var. trilobata.

According to Arizona Flora Native Americans ate the berries and used the stems make baskets, while other parts of the plant were used as a mordant to help bind dyes. Skunkbush has been used as a cold remedy, burn dressing and miscellaneous disease remedies. See other ethno-botanical uses at Native American Ethnobotany, University of Michigan, Dearborn.